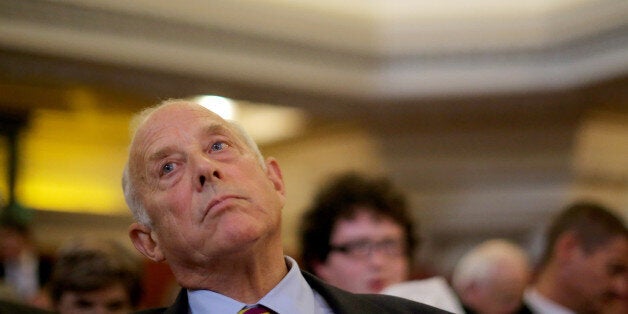 Controversial MEP Godfrey Bloom reportedly shocked attendees at an Oxford Union debate, calling a disabled student 'Richard III', after the monarch who famously had a deformity.
Bloom, who lost the Ukip whip for a series of bizarre gaffes including calling a roomful of women 'sluts', was speaking on the motion "Post-war Britain has seen too much immigration."
His fellow debater was Spectator columnist Douglas Murray, who published a blog this morning detailing the incident at the debate, where the motion was opposed by Lord Singh, Nadhim Zahawi MP and Monica Ali.
According to Channel 4's Michael Crick, who was hit on the head with a brochure by Bloom at the Ukip conference, Bloom was confronted by a male student who had a disability, and who disagreed with his take on immigration.
The student was David Browne, a second year law student at Merton College, from Carryduff, Northern Ireland.
Bloom then asked Browne: "Are you Richard III?", according to reports from Crick and Murray.
The student had "a rather clear disability.. slightly lame in one leg" according to Murray, who said he did not know what the disability was, but recalled him making an "impassioned speech against my side of the argument, ending in an unnecessary attack on Mr Bloom".
The student called Bloom out on the attack, saying the personal attack meant he had lost the argument, according to Murray.
"It was an awful moment. I thought the student's speech misguided and wrong. But why anybody, let alone an elected politician, would taunt him for his disability is beyond me. It was a gruesome moment – ghastly, disgraceful and deeply telling of Mr Bloom. I was glad to have the opportunity to speak with the student afterwards," Murray wrote on the blog.
Browne told Channel 4: "I didn't think it was a very nice thing to say. I wasn't happy with the remark."
But he added that he had drunk with Bloom after the incident, "We didn't bring it up again. He's a very interesting man to talk to," he said.
Richard III is believed to have had physical deformities, including a hunchback, but some of the more outrageous descriptions of his appearance, and his portrayal in Shakespeare's play, can be attributed to the Tudor propaganda of the era.
Related