Hungarian neo-Nazis were trapped in a tube station and had their rally moved by police after being confronted by anti-fascists.
Protesters waited at London's Holborn station for the arrival of Gabor Vona, leader of the Jobbik Party, who was due to address expats to rally support for his election campaign.
Jobbik is accused of holding strong anti-semitic views and fuelling hatred against Jewish and Roma communities.
Eyewitnesses said the Jobbik supporters were boxed into the station by police as anti fascists waved banners with the slogan "No Nazis, no Golden Dawn, no Jobbik, no BNP", listing prominent European far-right parties.
The extremists then headed to Hyde Park to regroup.
A Met Police spokesman told Channel 4 News: "We are helping a group assemble for a lawful protest at an alternative location in order to prevent a breach of the peace."
Good day for anti nazis! Jobbik had a miserable day scuttling round london. They were cornered Inside Holborn tube like the rats they are. They gave nazi salutes, but were treated to a suitable welcome. Great turnout of anti fascist hungarians
Vona, founder of the now-outlawed Magyar Garda Mozgalom paramilitary guard, was lined up to speak to expatriates at the rally, scheduled to take place a day before Holocaust Memorial Day.
Unite Against Fascism (UAF) urged all anti-fascists and anti-racists to join the protest and oppose any link-up of far-right parties across Europe.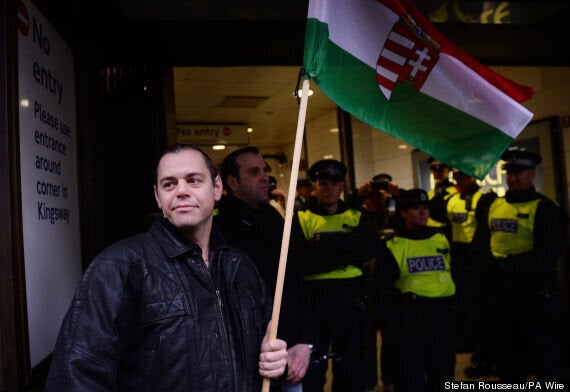 A Jobbik supporter waits for Vona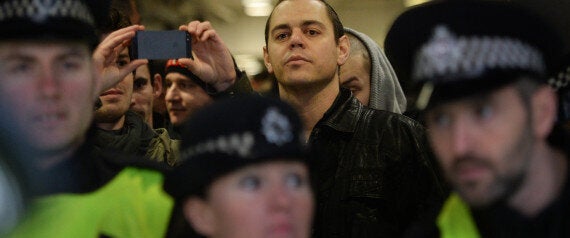 There was a strong police presence at Holborn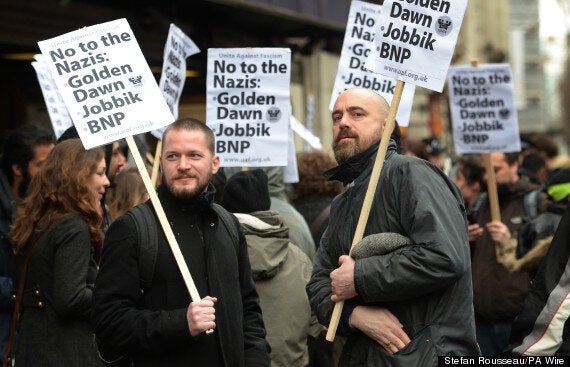 Protesters sent a clear message
The organisation's joint national secretary, Sabby Dhalu, said: "UAF has played a central role in driving back fascism in Britain. Jobbik's fascist hatred has no place in a modern society here, or in the rest of Europe.
"Wherever fascists have a presence, racist, anti-semitic and Islamophobic attacks increase. We call on all democrats to reject Jobbik this Sunday."
Vona and his party are said to have close links with groups such as the neo-Nazi Golden Dawn party in Greece and the far-right British National Party (BNP) led by Nick Griffin.
London Assembly member and former Labour MP Andrew Dismore wrote to Home Secretary Theresa May demanding that Mr Vona be banned from holding the event.
Dismore, who as a Labour MP founded Holocaust Memorial Day, has called Jobbik "the most powerful outwardly fascist political party in Europe".
Vona has previously denied claims he is meeting members of Greece's Golden Dawn party - who have openly expressed admiration for Adolf Hitler - and the BNP today.
His spokeswoman said he is hosting a forum for Hungarian citizens ahead of a forthcoming election.
She said that the claims were "false", adding: "He has no intention of meeting anyone from Golden Dawn or the British National Party.
"This is a forum for Hungarian citizens. This is not to do with anyone else.
"There are lots of Hungarians living in London and the election is coming up in Hungary."
Earlier this month Griffin told reporters that the BNP was likely to forge an alliance with Jobbik and Golden Dawn after the European Parliament elections in May.
Griffin travelled to Athens to support Golden Dawn - which has seen a surge in popularity during the country's financial crisis - following accusations it is a criminal organisation.
Related