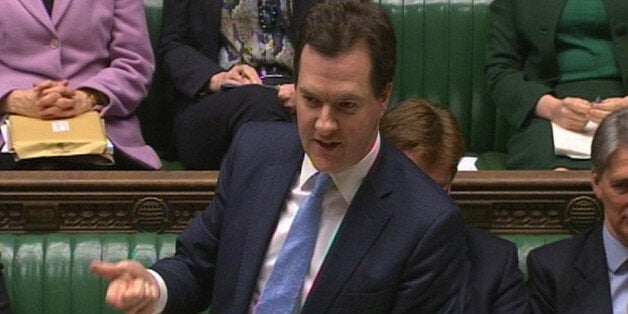 George Osborne has accused Ed Balls and the Labour Party of being "anti-British" for failing to back his economic plans.
Osborne, supported by cheers from the Tory benches, was in a bullish mood in the Commons on Tuesday morning after official figures showed Britain's economy grew by 1.9% last year, the fastest pace since 2007.
"Our long term economic plan is working, but the job is not done. The biggest risk now to the recovery would be to abandon the plan that is delivering jobs and a brighter economic future," he said.
In tetchy exchanges with Balls, Osborne said the shadow chancellor had only welcomed the economic growth "through gritted teeth" as he had said it would not happen.
"He predicted there would be no economic growth unless we borrowed and spent more. He has been wrong on all these things. What they need on the other side of the House is new crystal balls," he said.
Osborne also said Labour, having announced it would raise the top rate of income tax to 50p from 45p, was now "anti-business, anti-recovery, anti-jobs, anti-investment and anti-the British people".
An unimpressed shadow chancellor hit back: "A joke about my name being called Balls, fabulous." And he said the benefits of any growth were not being felt by ordinary people.
"After three damaging years of flatlining in our economy today's growth figures are welcome," Balls said. "But everything we have seen today from the chancellor shows he just doesn't understand, for working people, facing a cost of living crisis, this is still no recovery at all."
Balls added: "He's failed to get the deficit down and since he came to office, working people aren't better off, they are worse off."
Coalition unity on the economic message was broken on Monday evening when Vince Cable warned Britain's economic recovery could prove "short-lived".
The Liberal Democrat business secretary warned that the "shape of the recovery" has not been "all that we might have hoped for".
Cable lashed out at the chancellor's planned pace of spending cuts, branding some of his proposed £30 billion cuts for after 2015 "slashing for its own sake".
"There are different ways of finishing the job," he said. "Not all require the pace and scale of cuts set out by the chancellor. And they could allow public spending to stabilise or grow in the next parliament, whilst still getting the debt burden down."
Popular in the Community