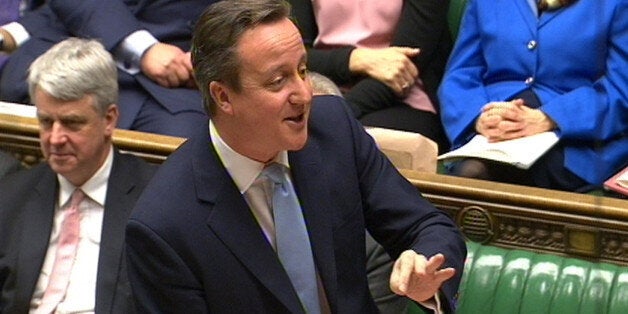 David Cameron repeatedly refused on Wednesday to rule out cutting taxes for the richest people if he wins the next election.
Asked three times by Ed Miliband during prime minister's questions to rule out lowering the top rate of tax paid on earnings over £150,000 from 45p to 40p, Cameron declined to answer. Instead Cameron accused Miliband of pursuing the "politics of envy" by targeting the rich for political not economic reasons.
"The fact is, under this government, the richest will pay more income tax in every year than any year when he was in office," Cameron said.
"I want the richest to pay more in tax and under this government they are, because we are creating jobs and creating growth."
The 50p top rate was introduced by Labour but reduced to 45p last year by the chancellor. On Saturday Ed Balls announced the Labour Party would return it to 50p after 2015. The party has said it would keep that rate in place for all of the next parliament as part of its deficit reduction plan.
Miliband gleefully read out to MPs today a 2009 quote from Cameron, in which the then leader of the Opposition said that the 50p would "have to stay" under a Tory government as it showed that "we're all in this together".
Some Conservatives want to see the rate reduced further. Boris Johnson has argued a cut in rates would actually produce more tax revenue for the Treasury.
George Osborne yesterday refused to rule out lowering taxes for the rich after the next election when pressed on the issue by Ed Balls. The chancellor also dodged the question when asked to give a 'yes or 'no' answer by Andrew Marr on his Sunday morning BBC programme.
A Labour Party source said it was significant that Cameron and Osborne had repeatedly refused to rule out lowering taxes for the wealthiest. "The prime minister is clearly thinking about reducing the top rate of tax again," the source said.
The source said it meant voters would have a "clear choice" in 2015 between a Labour Party that wanted to raise taxes on the rich and a Conservative Party that wanted to lower them and that "fairness in society matters".