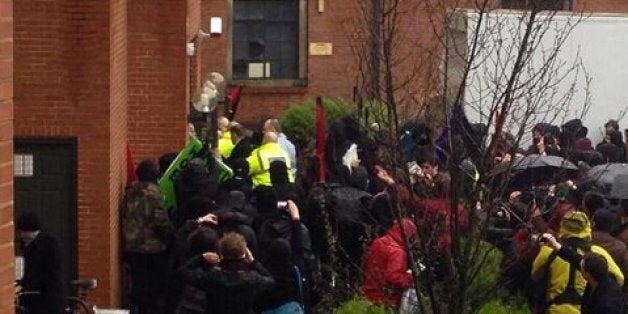 Fourteen students were arrested during a protest at Birmingham University which saw smoke bombs and fireworks thrown and members of staff injured.
According to the institution, doors were smashed down, leaving staff "no choice" but to phone the police.
The protest, organised by Defend Education Birmingham, was against rising tuition fees and low staff wages and was attended by around 300 students. The students unfurled a banner on the university campus' clock tower and held a sit-in in one of the institution's buildings.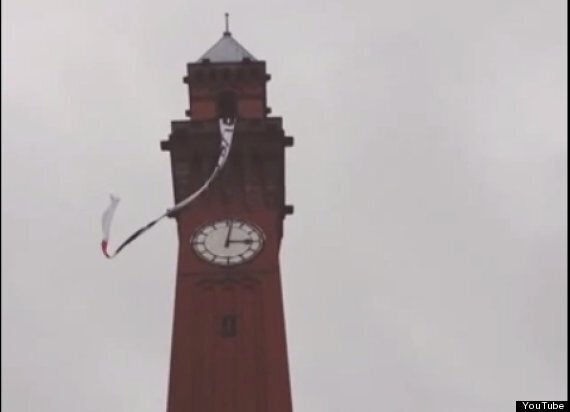 The protest group's flag flies from the university clock tower
The group claims 100 students were kettled by police upon leaving their sit-in and lasted four hours "keeping protesters and press in the freezing cold".
Kirsty Haigh, an activist for National Campaign Against Fees and Cuts and union officer at Edinburgh University described the actions of the university management and police as "utterly disgraceful".
"As far as we know the arrests were all for refusing to give their names to the police. Universities everywhere are losing the argument on staff exploitation and privatisation – and the only argument we saw from them today was brute force.
"What we saw from management and police today was utterly disgraceful."
A spokesperson for the university said: "The actions of Defend Education Birmingham, a group not affiliated to the Guild of Students or in any way representative of our student body, included defacing buildings and property, throwing smoke bombs and fireworks, smashing down doors, damaging buildings including Aston Webb and the Old Joe clock tower, and injuring staff.
"Given the serious nature of their actions, the University had no choice but to ask the police for assistance in restoring order and protecting students, staff and university property."
A group of protesters have already gathered outside the two police stations in support of the detained students.
However West Midlands Police say only 14 arrests have been made, on suspicion of offences including aggravated trespass, assault and criminal damage.
Birmingham Police Superintendent Lee Kendrick said the protest escalated into a "serious public order incident".
""We strongly refute any suggestions of containing or 'kettling' a lawful protest. Police were called to the site by the university as a result of demonstrators breaking into buildings, damaging property and assaulting staff.
"The suspects were detained by police and required to give their details ahead of the pending criminal investigation – any that refused were arrested."
Related