The Sun is responsible for some of the greatest tabloids headlines in history, like 'It Woz The Sun Wot Won It', Neil Kinnock on a lightbulb, and possibly the most convoluted pun of all time 'Super Cally Go Ballistic, Celtic Are Atrocious'.
But today's effort isn't one of the classics.
The page is dedicated to the "Patron Saint Of Good Weather" - St Medard. The headline? 'Bring Me Sun Shrine'.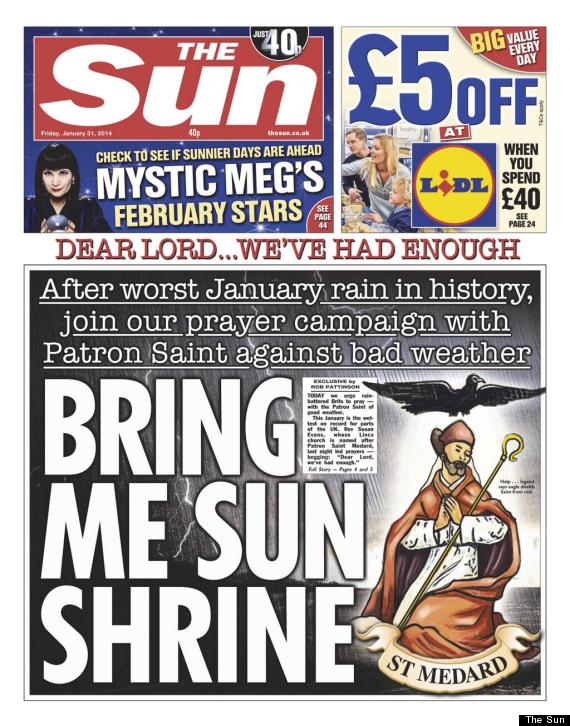 The front page of Friday's Sun
Dubbed an 'exclusive' (what else?), the piece says: "After worst January rain in history, join our prayer campagin with Patron Saint against bad weather.
"Today we urge rain-battered Brits to pray- with the Patron Saint of good weather."
The Sun newspaper wants people to join in a 'prayer campaign against bad weather'. Seriously. In the year 2014 pic.twitter.com/ThPYdFH3zD

— Sunny Hundal (@sunny_hundal) January 30, 2014
The Sun has gone off the rails. They appear to be trying to organise a prayer campaign to pray for Sun, or something.

— Daniel Rendall (@danielrendall) January 31, 2014
Inside, the puns were better quality than the story, with a double-page spread, 'Wet Us Pray, with Vicar of Dribbly'. The holder of that unfortunate title is Sue Evans, vicar of of the church of St Medard, Little Bytham, Lincolnshire, who prepared a special Sun prayer for good weather, including the line 'Dear Lord, we've had enough'.
The piece was co-authored by the paper's Environment editor. It also included a picture of two Page Three girls, pouting and praying outside the church, in red Sun t-shirts.
The edition has perturbed many on social media:
The Sun's Friday front page has a prayer campaign. And Mystic Meg. I'm confused and need a drink. Luckily it also has £5 off at Lidl.

— paulkerensa (@paulkerensa) January 30, 2014
The Sun calls for action on climate chaos: 'Today we urge rain-battered Brits to pray' http://t.co/chTQFwVooJ

— Media Lens (@medialens) January 31, 2014
As many have pointed out, it doesn't seem to be working yet..
It's raining again - despite The Sun enlisting St Medard for its "Bring me Sunshine" campaign. Did they call up St Swithin by mistake?

— Nigel Pauley (@nigelpauley) January 31, 2014
The French saint's feast day is on June 8th. Catholics believe if it rains on St Medard's day, then it will rain for the next 40 days. Not idea, by any stretch.
It is traditional to use his name in prayers for good weather (though in parts of the world, that can be a prayer for rain).
Hang on a minute - St Medard is the patron saint against bad weather, but also FOR rain. GOD DAMN THE SUN, THEY'LL HAVE US FLOODED EVEN MORE

— Tara Mulholland (@tara_mulholland) January 30, 2014
He is also the patron saint of vineyards, for prisoners and for the mentally ill.
So he wouldn't be a great fan of this Sun front page, from last year.