Former MP Clare Short has criticised Benefits Street - the Channel 4 show filmed in her former constituency - calling it "crummy and misleading".
The ex Secretary of State for International Development branded the controversial documentary an excuse for "viewers to judge and sneer".
Short was MP for Ladywood, the Birmingham constituency where the TV series is set, for 27 years and grew up in the vicinity.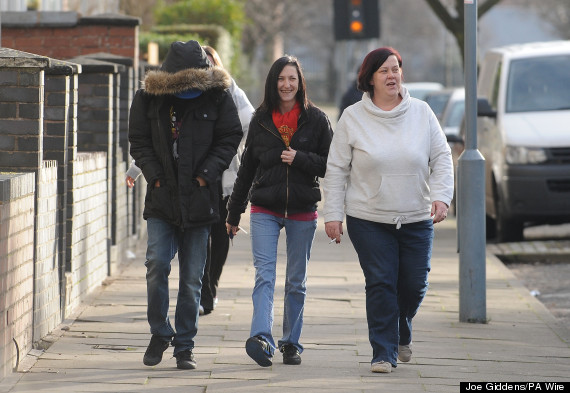 Dee Roberts (left) known locally as Black Dee and Deirdre Kelly (right) known locally as White Dee walk along James Turner Street in Birmingham
She told the Radio Times that the programme focused on so few of the nearly 100 houses on John Turner Street that it was "totally unrepresentative."
Benefits Street has been a ratings success for Channel 4, attracting between four and five million viewers.
But TV bosses have been accused of turning poverty into entertainment with the series, which has attracted over 1,700 complaints.
Former Labour MP Ms Short told the magazine that up until the 1980s, when the area was hit by unemployment and a "new culture of drugs, crime and mental health problems", everyone was in work.
She said that the show was not representative because "in a typical Ladywood street of 100 houses, 42 people would be living on the state pension, 15 would be sick and disabled (many of them also old) (and) those on Jobseeker's Allowance would be fewer than three."
Short, who stood down as an MP at the 2010 general election, said of the show: "It seems, to me at least, another example of the voyeur, Big Brother phenomenon.
"I fear some of the people featured played up to the cameras, thinking they'd at last found a little of the 'glamour' of so-called celebrity for which so many yearn.
"But more darkly it provided false justification for viewers to judge and sneer.
"For me, Benefits Street is a crummy and misleading series of programmes. It demeans rather than informs.
"For even among the most disreputable people of Ladywood, there's a spark of likeability and hope that means that no-one should be written off."
Some residents featured on the TV series, which ends on February 10, have claimed that they were tricked by film-makers into taking part.
The show has also sparked hundreds of complaints to broadcasting watchdog Ofcom and Channel 4 about the way it portrayed people on benefits.
Ofcom has received 956 complaints and Channel 4 said it had just over 800, while another 100 contacted the broadcaster to say that they liked the show.
Some viewers' tweets sent after the first episode contained abusive messages and death threats aimed at the programme's participants.
Last month, police charged a number of people on the street with drug offences.