Journalists have been tweeting their solidarity over the imprisonment of Al Jazeera journalists, as dozens protested against the incarceration outside Egyptian embassies on Tuesday.
Former BBC journalist Peter Greste and his Al Jazeera English colleagues, producers Mohammed Fahmy and Baher Mohamed, have been detained in Egypt for 38 days, accused of "fabricating news" and plotting against the military government.
This week, journalists from Channel 4 News, ABC, the BBC, The Wall Street Journal all posted photos from their personal Twitter accounts in support of #FreeAJStaff:
h
What if all journalists were gagged? #freeAJstaff. With @millerc4 in London thinking of colleagues in #Egyptpic.twitter.com/JS0el4aOiu

— Lindsey Hilsum (@lindseyhilsum) February 3, 2014
For @PeterGreste and all the journalists imprisoned for doing their job: #FREEAJSTAFFpic.twitter.com/ZHYVx5ikt8

— Heidi Vogt (@HeidiVogt) February 4, 2014
Journalists from all over the world showing support to aljazeera detained journalists in Egypt v @AliAlshidhanipic.twitter.com/BJWT1FrbT8

— سارة عثمان (@Sarah_Othmann) February 4, 2014
#FreeAJStaffpic.twitter.com/u4kjTwbLv2

— Adrian Finighan (@afinighan) February 4, 2014
Foreign correspondents of East #Africa cover their mouths with #Egypt|ian colored gags in appeal to #FreeAJStaffpic.twitter.com/Wg0iPHlYr4

— africa @pressfreedom (@africamedia_CPJ) February 4, 2014
In Nairobi, protesters gathered with signs saying "Being a Journalist is not a crime" and "Free Aljazeera Staff now" - many wearing tape sealing up their mouths.
Egyptian embassy staff declined to take messages of goodwill and books which activists had prepared for the journalists.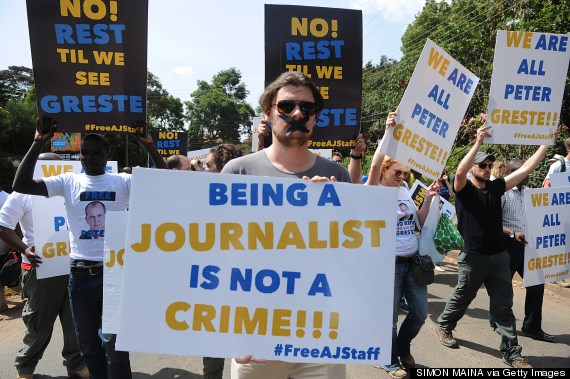 Foreign journalists hold banners as they march to the Egyptian Embassy to show support to Peter Greste, an Australian journalist who was arrested and detained in Cairo
"We wanted to come together, as both local and foreign correspondents, to protest in Nairobi because we know Peter Greste and we know that these allegations brought by the Egyptian government against him and his colleagues are baseless and unfounded," the head of the Foreign Correspondents Association of East Africa Robyn Kriel said.
"Peter is our friend and colleague. He was just doing his job to the best of his ability, and we want him and his team released immediately."