A senior Romanian politician has launched a angry attack on David Cameron, Boris Johnson and Nigel Farage, accusing Britain of having "declared war against an imaginary enemy".
Romanian MEP Corina Cretu said the rhetoric used by right-wing politicians against her countrymen went against the very principles of the European Union.
In a blog for the Huffington Post UK, Cretu said: "The Mayor of London – a respectable and important figure of the establishment – laments that 'we can do nothing to stop the entire population of Transylvania... from trying to pitch camp at Marble Arch'.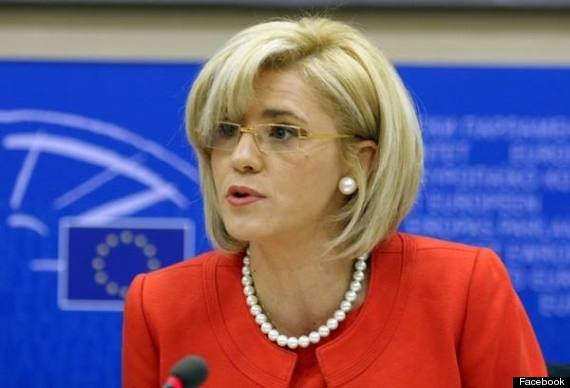 Romanian MEP Corina Cretu said British politicians have misunderstood the principles of the EU
"The country's Prime Minister David Cameron writes that 'free movement within Europe needs to be less free'.
"Another leader – Nigel Farage of the UKIP – fears the imminent invasion of the UK by 29million Romanians and Bulgarians Romania's entire population is around 20 million, and Bulgaria's – a little over seven million.
"Why has Britain declared war against an imaginary enemy?"
Romanian politicians have been outspoken in recent months about the "xenophobia" amongst British lawmakers and the media, but most have stopped short of criticising individual politicians.
In October, Romania's foreign minister expressed his outrage at "xenophobic, populist" politicians in the UK, who he accused of being "fundamentally unprofessional" and misleading in the debate over migration.
"The European Union was created as an instrument for overcoming divisions and hatred, for stimulating growth and prosperity all across the continent," Cretu continued.
BLOG: The British War Against Immigrants Is Anti-European, Unjustified and Wrong - Corina Cretu
"It was not created as a club for rich countries to contemplate their richness and devise additional ways to extend their affluence... it exists to integrate poorer states and stimulate their progress, thus raising prosperity all over Europe and giving more and more European citizens the chance to have a better standard of living.
"Such generous principles seem to be all but forgotten, to anyone who reads the UK press of the last few months."
The UK debate on the EU was misplaced, she said, because the purpose was not just "to recruit customers for its mobile phone companies, banks and pharmaceutical corporations".
Cretu said that Romanian migrants were mostly young or mature adults who have no need to ask for social benefits, people who are "dynamic, well-prepared for an unfamiliar environment, ready to learn quickly and face challenges – not your average benefit-seeker".
On a philosophical level, Cretu argued, it was not wrong for Romanians to receive benefits in Britain, when British citizens were also able to take advantage of opportunities in Romania. "Did Romanians take to the streets and riot when fabulously-paid jobs in big companies functioning in Romania went to British citizens, who "stole" them from our own citizens? Definitely not!
"We live in a free market; we are governed by the principle of free movement of labour. Anyone can try their luck to get a job in any EU country, as long as they fit the requirements and respect the law.
"At the same time, anyone has the right to benefit from the social system of the country they choose to settle in, temporarily or permanently, as long as they do it with complete respect of the legislation and no abuse takes place."
"This is my message to the people of Britain," she added. "Ignore the populist nonsense served to you by vote-hungry politicians during the last months, especially since they paint this profoundly absurd picture.
"Do not believe them. UK is not besieged by waves of migrants waiting at the borders to invade you. EU is not at war. And the next time a doctor treats you, make sure you ask where he's from – he might be Romanian."
Cretu is a member of the progressive group of MEPs in the European Parliament, a former diplomat and spokesman for the Romanian government, who was rumoured in August 2013 to have had an affair with former US secretary of state Colin Powell, after affectionate emails were leaked to the press. Powell, married for 50 years, denied any physical liaison had taken place.