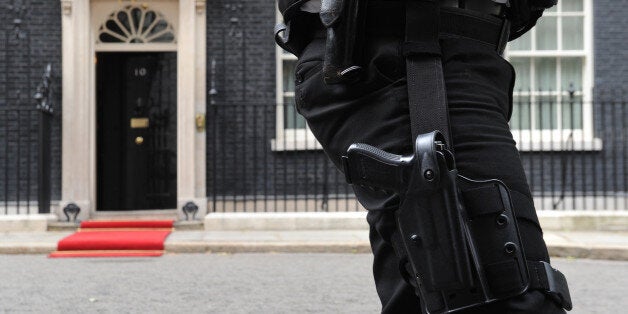 The constables from the Metropolitan Police's SO6 Diplomatic Protection Group (DPG) were arrested on December 19, the force revealed yesterday.
They were questioned at a central London police station and had their homes searched.
The officers are from the same unit that was at the centre of the so-called Plebgate affair, which led to the resignation of chief whip Andrew Mitchell.
A spokesman said today: "Three officers have been informed there will be no further action regarding criminal matters but they remain subject to a misconduct investigation."
A decision has yet to be made by the CPS regarding criminal charges against a fourth DPG officer who was later interviewed about the images, which were of an "extreme sexual nature", but do not involve children.
One of the four officers was suspended and three put on restricted duties after the investigation was launched.
Police in the DPG are the officers who search visitors and vehicles heading into Downing Street and New Scotland Yard.
Current members of the Government along with former prime ministers and some former government ministers are among those who would also be protected by the DPG.
The DPG is also responsible for the protection of sensitive sites such as embassies and missions along with the residential protection for visiting heads of state, heads of government and foreign ministers.
It is also involved in surveillance at events which have been identified as high risk and at diplomatic functions or key sites.
These officers also provide specialist counterterrorism searches at sensitive addresses, major events and crime scenes.
They also give professional security advice to the diplomatic and government communities.