A wildlife park in Britain today said it was "saddened" to hear that a zoo in Denmark has killed a healthy giraffe because of rules imposed by a European zoo association to deter inbreeding despite a wave of online protests to save it.
Copenhagen Zoo spokesman Tobias Stenbaek Bro said it put down the male giraffe, named Marius, using a bolt pistol and will feed its meat to carnivores in the zoo.
Doncaster-based Yorkshire Wildlife Park (YWP) said it was saddened to hear the reports from Copenhagen that the animal had been euthanised. Marius, a male giraffe, lies dead before being dissected
A spokesman said: "When news of the plan was revealed on Saturday YWP immediately contacted Copenhagen Zoo via YWP's head of hoofstock who is Danish and explained to the zoo why the Park urgently wished to speak to the zoo and requested a call to confirm the situation regarding the giraffe.
"YWP has a state of the art giraffe house built in 2012 with a bachelor herd of four male giraffes and the capacity to take an extra male, subject to the agreement of the European stud book keeper. One of the YWP giraffes is Palle, who came from Copenhagen Zoo in September 2012, when he was the same age as Marius.
"YWP did not hear back from the zoo, but on Saturday night YWP was contacted by the Danish press and the BBC and asked if they could confirm that they had made an offer to rehome Marius. YWP confirmed that they had contacted the zoo but had not heard back.
Story continues after the slideshow...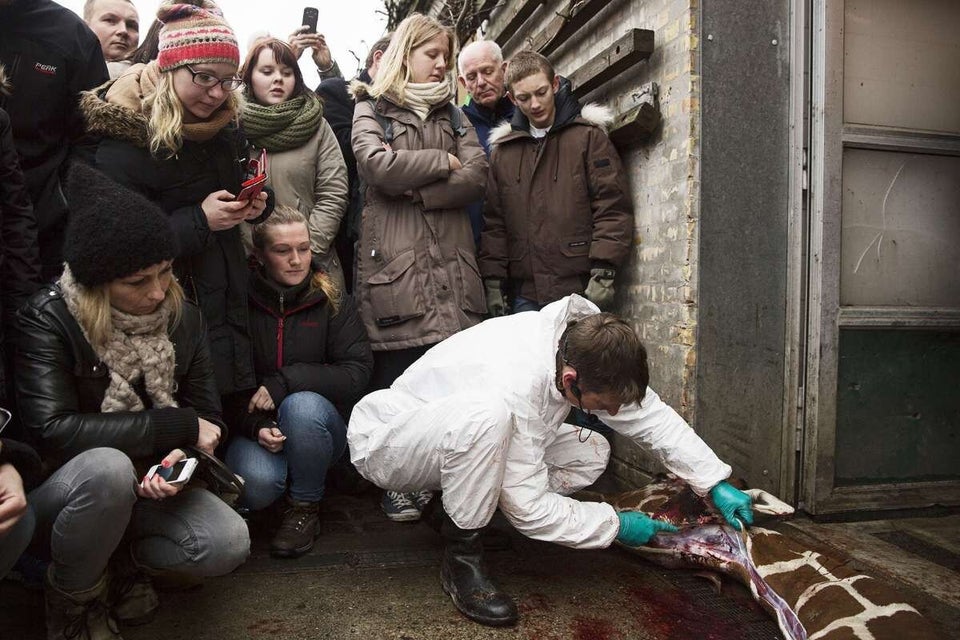 "YWP has now seen press reports that Copenhagen has euthanased Marius. Without knowing the full details it would be inappropriate to comment further."
Mr Stenbaek Bro said the zoo was recommended to put down the giraffe by the European Association of Zoos and Aquaria because there were already a lot of giraffes with similar genes in the organisation's breeding programme.
He said EAZA membership is not mandatory but most responsible zoos are members of the organisation, which works to conserve global biodiversity.
The BBC reported that a post mortem examination was broadcast live on the internet.
A crowd of visitors, including children, watched as the carcass was skinned, cut up and fed to the lions.
The zoo's scientific director, Bengt Holst, told the BBC he had received death threats but would not alter his style of animal management.
Stine Jensen, from Denmark's Organisation Against the Suffering of Animals, said the situation "should not have occurred".
"It just shows that the zoo is in fact not the ethical institution that it wants to portray itself as being, because here you have a waste product - that being Marius.
"Here we have a zoo which thinks that putting this giraffe down instead of thinking of alternatives is the best option," she said.
But Mr Holst defended what had happened, saying giraffes had to be selected to ensure the best genes were passed down to ensure the long-term survival of the species.
He told the BBC it was a responsible practice for zoos to manage their animal populations to ensure they remained healthy, with some 20-30 animals put down at Copenhagen Zoo in a typical year.
He said all zoos had been considered and there was no place for Marius - including at Yorkshire where, he said, any space should be reserved for a genetically more important giraffe. The campaign to save him, he said, had gone "much too far".