Mystery surrounds the appearance of a 2,000-year-old bronze statue of the Greek God Apollo – after it was retrieved from the seabed by a fisherman on the Gaza Strip.
Lost for centuries, the 500kg statue was then reportedly transported home on a donkey cart, with Jouda Ghurab blissfully unaware of the significance of his catch.
"It's unique. In some ways I would say it is priceless. It's like people asking what is the (value) of the painting La Gioconda (the Mona Lisa) in the Louvre museum," Jean-Michel de Tarragon, a historian with the French Biblical and Archaeological School of Jerusalem told Reuters TV.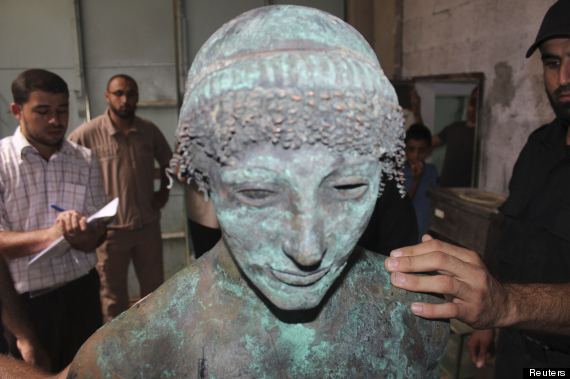 The bronze statue is believed to have been cast sometime between the 5th and the 1st century BC, making it at least 2,000 years old
He added: "It's very, very rare to find a statue which is not in marble or in stone, but in metal."
The statue was discovered in August last year, and made a brief appearance on eBay with an opening price of $500,000, before it came into the possession of police from the Islamist group Hamas, who say they are investigating.
According to Haaretz, an unnamed American museum and the Louvre have expressed interest in the find.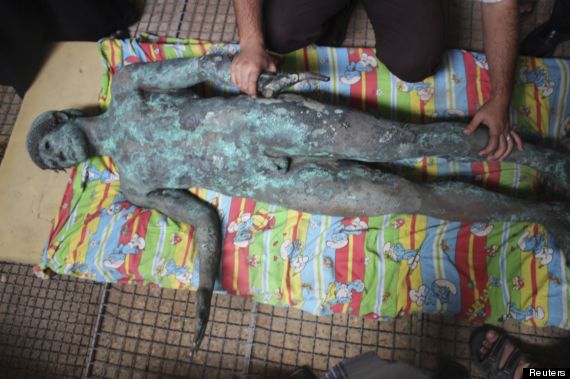 According to legend, Apollo was particularly associated with youth, prophecy, archery, healing, music and the sun
"We are keeping the door open to cooperation with any government," said Muhammad Ismael Khillah, assistant undersecretary of Gaza's Ministry of Tourism and Antiquities.
He added a public exhibition of the Greek God in the Strip was also a possibility – though Apollo's genitals would have to be covered so as not to violate the Hamas regime's modesty regulations.