Prime Minister's Questions should be moved to a slot during TV's evening prime time and Speaker John Bercow should be given the power to "sin bin" misbehaving MPs for the duration of the session, a think tank has recommended.
Polling found almost half of people thought the weekly sessions were "too noisy and aggressive", with just 16% believing that MPs behaved professionally.
The Hansard Society recommended sweeping reforms to David Cameron's weekly appearance before MPs, including the Prime Minister being faced with questions submitted by members of the public.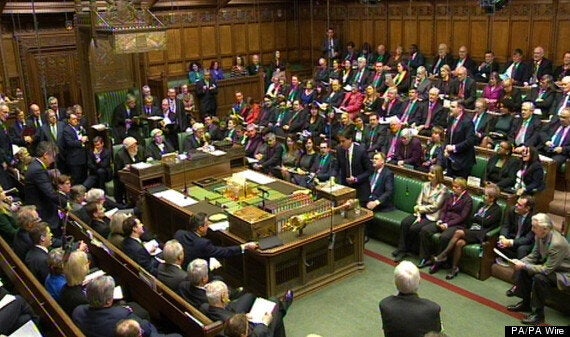 Is this prime time material?
A survey found 67% of the public agreed there was "too much party political point scoring" at PMQs, with just 5% disagreeing.
The Ipsos Mori study found some 47% thought it was too noisy and aggressive, compared with 15% who disagreed, and a third of respondents said PMQs put them off politics.
The Hansard Society recommended moving the session from Wednesday lunchtime, which "disproportionately" enables only older voters to watch, to a prime time slot on Tuesday or Wednesday evening in a bid to attract a younger audience.
The number of questions available to Labour leader Ed Miliband - currently six - should be reduced in order to give more time to backbench MPs.
The Speaker is frequently forced to intervene at PMQs in an effort to maintain order - including rebuking Education Secretary Michael Gove in the most recent session, telling him: "You need to write out a thousand times, 'I will behave myself at Prime Minister's Questions'."
But the report recommended giving him a new sanction for use against offenders at PMQs, ordering them out of the Chamber for the rest of the session.
Focus group research found a "real sense of frustration with the extent to which PMQs was perceived to be out of control", the report said.
"The Speaker's first responsibility is to maintain order but he cannot do so if MPs persist in wilfully misbehaving week after week," it said.
"The Speaker needs to be empowered - with cross-party agreement - to take a tougher stance when members misbehave and thereby bring the House of Commons and Parliament into disrepute."
Current sanctions available to the Speaker were deemed disproportionate, so the new "sin bin" power should be made available, banning them from the Chamber for the remainder of PMQs or for a set number of hours.
The report recommended extending PMQs once a month to 45 minutes or an hour, focused on just a few policy areas.
The remaining sessions would stay at 30 minutes, but with more closed questions on subjects designated in advance, and the input of members of the public.
"Citizens could be invited, once a month, to submit questions to the House for consideration at PMQs," the report said, adding that Twitter had been used for that purpose in select committees.
The report's co-author Dr Ruth Fox, head of research at the Hansard Society, said: 'PMQs is a cue for the public's wider perceptions of Parliament. It provides a lot of the raw material that feeds their negative assumptions about politicians.
"The public think the conduct of MPs is childish and wouldn't be tolerated in other work places. They think politicians are simply not taking the issues that affect their lives seriously enough.
"As Parliament's 'shop window', it portrays a damaging and misleading impression of what happens at Westminster because the public think that what happens at PMQs is how Parliament works all the time.
"Reform is overdue if PMQs is to move from being an inward-looking and self-referential event towards its proper role of scrutiny and accountability."
Ipsos Mori conducted face-to-face interviews between December 6 and 13, 2013 with a representative sample of 1,286 British adults
Popular in the Community