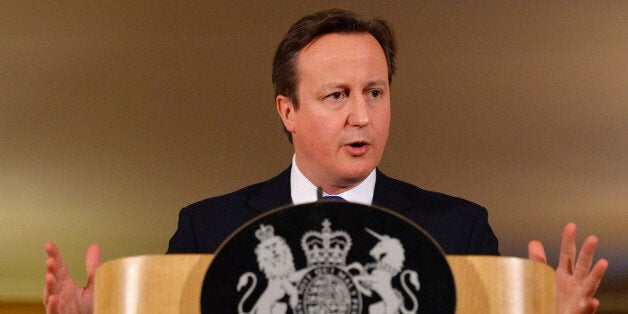 Here are the five things you need to know on Wednesday 12 February 2014...
Austerity doesn't work - at least, in response to flooding, it seems. From the Guardian:
"A resolute David Cameron vowed to marshal the forces of the state to tackle the flooding crisis, pledging a wider role for the army and unlimited public funds to protect families. After two days of Whitehall infighting and mixed messages, the prime minister returned from visiting stricken communities in south-west England to hold a Downing Street press conference at which he sought to assert his authority over the natural disaster. In words that may yet come back to haunt him, Cameron said: 'My message to the country today is this. Money is no object in this relief effort, whatever money is needed for it will be spent. We will take whatever steps are necessary'. He insisted 'we are a wealthy country and we have taken good care of our public finances'."
Two points: 1) If only his government hadn't cut spending on flood defences and preparations in advance of the most recent extreme weather events. 2) If only his government cared as much about, say, long-term unemployment or child poverty as it does about flooding.
Good news for borrowers and businesses from the Bank of England governor via the Telegraph:
"Britain's economy is still too weak for the Bank of England to risk any interest rate rise in the near future, its Governor Mark Carney has warned. Mr Carney is to present the Bank's latest growth, inflation and unemployment forecasts, but will stress that the economy will not withstand a rate increase, which would trigger a rise in mortgage repayments for millions of borrowers. Britons have grown increasingly nervous about the Bank's policies on interest rates amid brighter economic news. Rates have been held at historic lows for almost five years. Mr Carney will also unveil the second stage of the 'forward guidance' policy, which pledged to keep rates on hold until the jobless rate fell below at least 7 per cent, but has lost credibility in the face of rapidly falling unemployment."
George, Danny and Ed are ganging up on Alex, it seems. From the Guardian:
"Britain's main political parties are drawing up plans to deliver a powerful message to the Scottish people that the remainder of the UK will refuse to form a currency union with Scotland if voters endorse independence in the referendum in September. Amid strong polling evidence that financial matters have become the decisive factor in voters' minds, George Osborne, Danny Alexander and Ed Balls are each planning to deliver an unequivocal warning that an independent Scotland could not keep the pound. David Cameron signalled at his Downing Street press conference on Tuesday that Osborne would be first out of the blocks later this week. The chancellor will reject a currency union as he develops his warning last week that first minister Alex Salmond's proposal had been 'demolished' by the Bank of England governor Mark Carney in a speech in Edinburgh last month."
BECAUSE YOU'VE READ THIS FAR...
Watch this video promo for the new series of my Al Jazeera interview show, 'Head To Head', which kicks off on Friday 21 February. Guests include Sinn Fein's Martin McGuinness, the PLO's Saeb Erekat and Wikipedia's Jimmy Wales.
"The Police Federation hiJacked the Plebgate affair for its own political ends and betrayed the officers who were on duty at the Downing Street gates, a key witness to the incident told The Times. Ian Richardson, one of four officers on duty as the former Chief Whip Andrew Mitchell demanded to cycle through the gates, spoke for the first time about the confrontation that has shaken public confidence in policing... Mr Rich-ardson, 50, who has retired from the Metropolitan Police, said he believed that Mr Mitchell called the officers 'f*****g plebs' as claimed by one of his colleagues in the original police log. Mr Mitchell, the Conservative MP for Sutton Coldfield, denies the allegation. The former officer added that Mr Mitchell's behaviour was officious and rude but he did not deserve to lose his position in government over a 'quirky incident that should have blown over'."
5) STOCKHOLM SYNDROME? NO WAY!
My HuffPost colleague Ned Simons reports:
"Nick Clegg has denied that his chief secretary to the Treasury, Danny Alexander, has "Stockholm Syndrome" and has been ideologically captured by the Tories. On Monday evening an aide to George Osborne claimed Clegg often complained that Alexander had "gone native" in the Treasury. Labour MP Kevin Brennan seized on the comments today as Clegg answered questions in the Commons. 'I know the deputy prime minister will be aware of the concept of Stockholm Syndrome where captives increasingly empathise with their captors,' he said. 'What is he going to do to de-programme the Treasury One?' The Lib Dem leader laughed off the remarks and said Alexander, Osborne's deputy in the Treasury, was doing an 'outstanding job on behalf of the government and the Liberal Democrats'. Clegg added: 'His Lib Dem heart is exactly where it should be.'
From the Sun/YouGov poll:
That would give Labour a majority of 60.
Roger Boyes, writing in the Times, says: "Britain shouldn't copy the xenophobic Swiss."
Mary Riddell, writing in the Telegraph, says: "Ed Miliband has a cunning plan: win power and then give it away."
Zoe Williams, writing in the Guardian, says: "Smoking in cars: the hidden agenda behind the ban."
Got something you want to share? Please send any stories/tips/quotes/pix/plugs/gossip to Mehdi Hasan (mehdi.hasan@huffingtonpost.com) or Ned Simons (ned.simons@huffingtonpost.com). You can also follow us on Twitter: @mehdirhasan, @nedsimons and @huffpostukpol