Police are investigating death threats sent to a Syrian journalist who appeared on BBC TV show, after she questioned whether Britain should allow Syrian refugees to come into the country.
Journalist and academic Dr Halla Diyab told BBC One's This Week news program that Syrian refugees would be better off seeking asylum in Arab countries like Saudi Arabia, Lebanon, Jordan and Egypt. "I don't believe it's a wise idea to bring the Syrians to Britain as refugees," she said, because they would be able to speak the language.
Syrian refugees cannot be "picky and choosey," she continued. "If Syria returns to peace, will the British government force them to go back to Syria or will they stay here forever?
"As a British taxpayer, will I be requested to subsidise for a new Syrian population in this country?"
Diyab, who is an extremely well-known face on Middle East TV, now claims to have received thousands of messages filled with vile abuse after she appeared on This Week with Andrew Neil on 30 January, including 15 death threats which she claims have left her terrified and afraid to stay in her own home or go into her office.
The claims were reported to police last Tuesday, who said they are "carrying out enquiries in relation to a malicious communications investigation.
A statement added: "Police were called on Wednesday February 5, 2014 regarding abusive and threatening messages posted towards a woman on a social media website. Investigations are continuing therefore it would inappropriate to comment further at this stage."
"I am terrified; they have made my life hell. I am afraid to stay at home in case they know where I live so I am staying with friends," she said.
"I am also afraid to go into work as my office address is on my website and I am terrified I could be attacked so I have had to cancel projects. I am living in fear and I feel my words have been twisted. I have been accused of being racist against my own people, which is ridiculous.
"They want to silence me because of the views I have expressed in my whole career. But I have always maintained my independence as a commentator and am not affiliated with the regime in any way.
"Yet the people attacking me are apparently the ones calling for democracy in Syria. How is it democratic to call for the death of someone whose opinions you disagree with?
"They have tried to burn my credibility by questioning my educational achievements and even my family background by writing lies about my father and mother on Wikipedia and elsewhere on the internet. They want to destroy me."
Many of those posting on social media have accused Diyab of having ties to the Syrian regime, and said she is not welcome in the country.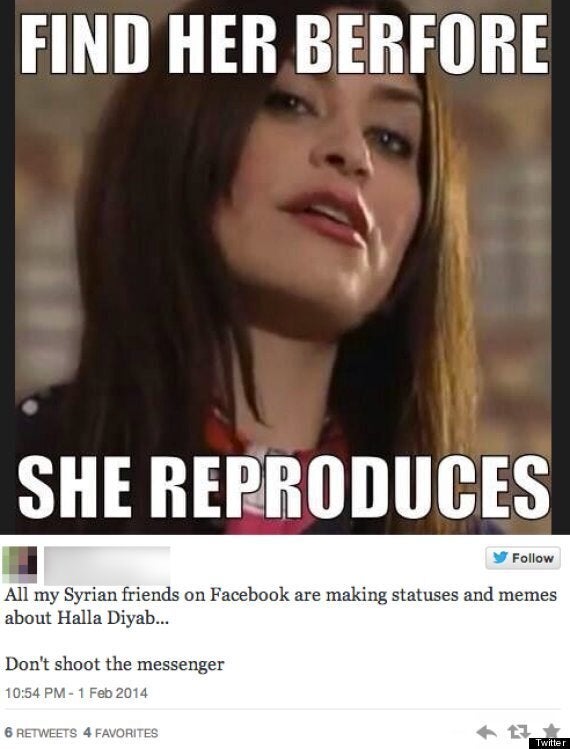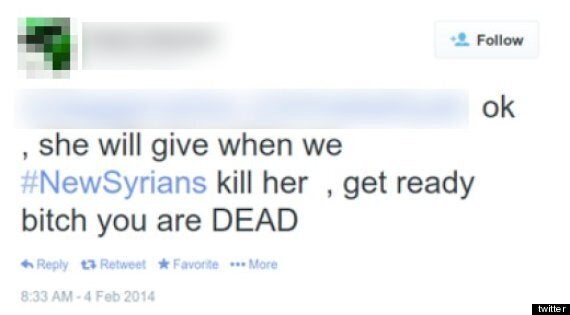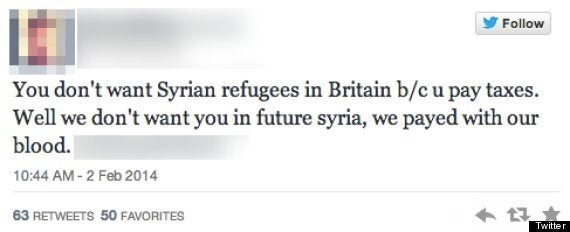 It is not the first time Diyab has been the subject of online abuse. In 2011 she came under fire from Muslim clerics after she spoke out against the wearing of the burqa.
She said: "The wonderful thing about living in a democracy like Britain is that people are free to agree or disagree with my opinions.
"I was invited onto the BBC programme to give an opinion and that's what I did although I didn't expect it to lead to threats to harm and kill me.
"My words have been distorted across the Arab media. Surely I should be free to express myself without the fear of abuse and hate-filled threats against my life?"
Diyab claimed here was a strong misogynistic element to the abuse she received.
"Many of the messages insulted me for wearing make-up and western style dress and for being an educated Arab woman living in the West.
"Any Arab woman who dares to voice an opinion knows she puts herself in the firing line for abuse of this kind but on this occasion it has been particularly ugly and nasty."
"Of course there is a bit of a culture barrier, but there is a huge Arab-British community, a large Syrian community that would help through them. Of course it would be best for Syrian refugees to go back to Syria, but the very harsh reality right now that it's a difficult prospect," Doyle added.
"Diyab suggests that Syrian refugees might stay in countries like Jordan and Lebanon. This misses the point that these countries are now so overcrowded with refugees that it is not sustainable. The conditions in which they are forced to live are appalling and many live there in constant fear of reprisal attacks, exploitation and health risks."
Popular in the Community