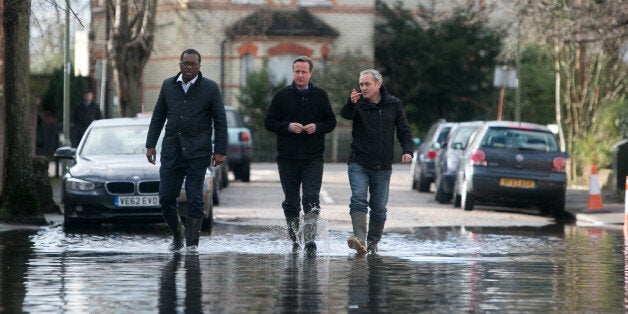 Ed Miliband attacked David Cameron over hundreds of Environment Agency job losses as floods dominated Prime Minister's Questions.
The Labour leader seized on Cameron's comments that "money is no object" to the relief effort as the political tussle over the crisis ramped up.
Adopting a restrained tone, he claimed that 550 workers dealing with flooding are being made redundant, asking: "If money is no object, is he reconsidering the redundancies?"
Cameron, who said people shouldn't worry about "penny pinching", announced emergency measures including £10m to help businesses hit by the floods and 100% business rate relief.
Miliband welcomed the measures, but returned to the theme of job losses and Cameron's spending pledge.
"I am afraid he didn't answer the specific question I asked", he said, raising the case of Environment Agency staff "who are currently helping with the clean-up."
He asked: "Given yesterday's promises...is he committing now to reconsider these redundancies and the amount of money we spend on flood defences?"
Cameron said the government had committed to capital spending up until 2020, a step "nobody else is able to match" because of Labour's "zero base" spending pledge.
Rounding off his response, he also accused Miliband of trying to "divide the house when we should be committing together to help the nation".