More overseas aid should be given in the form of loans rather than donations, with grants restricted to the poorest countries or for emergency situations, MPs have recommended.
The Government should consider setting up a new UK development bank to manage aid investment, a cross-party report said.
The International Development Select Committee also suggested that loans should be used to finance infrastructure projects in some of the world's poorest countries, but acknowledged that finance would have to be carefully managed to avoid burdening them with unmanageable debt.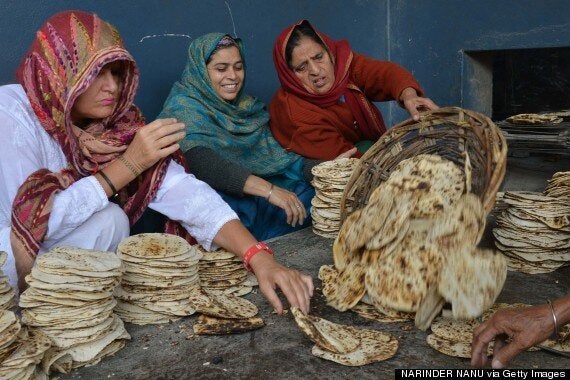 Women collect chappati at a free meal at the Golden temple, India, which is one of the countries MP say should be given loans, not grants from the UK
The MPs backed the Government's commitment to continue meeting the international target of spending 0.7% of gross national income on overseas aid.
But the Government should focus grants on low income countries (LICs) with more developed middle income countries receiving assistance in the form of loans.
The committee's Liberal Democrat chairman Sir Malcolm Bruce said: "We believe the overwhelming drive in UK aid should continue to focus on lifting people out of poverty and meeting post-2015 development objectives.
"The UK should continue to fund the development and delivery of key services to the very poorest people in low income countries through a system of grants.
"We should also continue to channel 0.7 % of GNI into development co-operation. But, to support structural transformation in lower middle income countries we suggest that a significant proportion of future UK development finance should also be delivered via a system of concessional loans and other financial instruments."
He added: "In lower middle income countries there is considerable scope to use UK aid funding to support the private sector to deliver programmes that generate economic growth, create jobs, raise tax revenues and reap social benefits, although the presumption should be that such support is provided in the form of returnable capital wherever feasible."
The committee's report said: "Development aid in the form of grants is very limited and precious and it is getting increasingly difficult to make the case for giving aid in the form of grants to MICs.
"We believe that DfID should also develop the capacity to distribute aid in the form of concessional and non-concessional loans either 'in house' or by establishing a UK development bank.
"We recognise that it will take time to build the capacity to manage loan finance but the expectation, once the capacity has been established, should be that grants to MICs should only be used where no other form of finance is possible.
"There may also be circumstances where loan finance would be appropriate in LICs, for example to finance infrastructure, such as power generation, which will generate a return on investment, but care should be taken not to re-burden least developed countries with unmanageable debt.
"We believe that grants should continue to be used for financing access to basic minimum needs in LICs, like health education, sanitation and water and where speed is of the essence, for example for emergency relief; for failed states and major conflict areas; and for global public goods which cannot be funded in other ways."
The UK has already decided to end grant aid to India, but the committee suggested that loans could be provided on a regional basis within the emerging power.
"We believe that there is a strong case for providing concessional loans, especially to lower MICs.
"For example, DfID is working with the Indian Government on a programme to support the transition from a grant aid-based relationship to one of mutual co-operation on trade and economic development.
"We believe that DfID should consider the scope for providing loans to regional governments within India as part of this transition programme, in order to support public sector projects in those regions which continue to have high levels of extreme poverty.
"This could provide a model for the transition arrangements for other MICs."
A DfID spokesman said: "This report is a welcome contribution to our thinking on support for economic growth in developing countries. The International Development Committee (IDC) has given a clear endorsement of our
approach to tackling poverty and the Government's commitment to spend 0.7% of income on aid.
"We are already using returnable loans and equity to help create jobs in developing countries.
"This is a totally new way of using our development budget because, unlike traditional aid grants, we expect our investment to be returned, so we can reinvest it.
"Economic development is now a core priority right across the department, as creating jobs and growth is absolutely the only way of ending poverty.
"We are looking at a wide range of new ways to boost economic development and work with the private sector. We will respond in full to the IDC in due course."