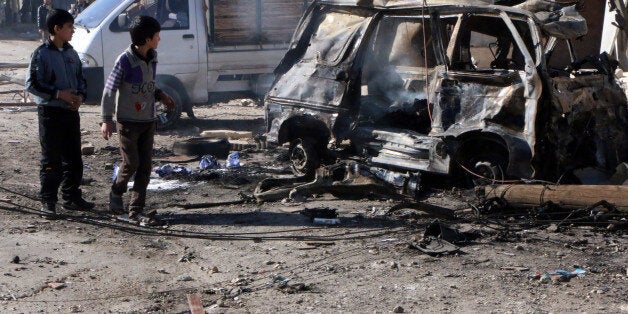 Police are investigating reports of the death of a British man in Syria.
Officers were searching a house linked to student Abu Layth in Didsbury, Manchester and speaking to his relatives.
Neighbours of the family, who were not at the property, spoke of their shock today as police carried on searches at the family's detached home on a quiet, tree-lined street in the affluent Manchester suburb.
The father runs two restaurants on Manchester's "Curry Mile" and the mother, Kamala, is a housewife. They are believed to have come to the UK from Afghanistan around 10 years ago and would make usually annual trips back there.
They have an eldest son, Naveed, 23, a pharmacist who is married to a "western" girl and whose wife is due to give birth imminently to the family's first grandchild.
They also have a daughter Naveeda, 22, who is also married and also heavily pregnant and a youngest son, aged around nine or 10, who attends a local school.
But one woman, who did not want to be named, said Abu Layth, whose family name is understood to be Anil Khalil Raoufi, appeared to change from being a "normal" teenager as he grew older.
He had been very friendly and enjoyed football with another youngster on the street but then changed his appearance and habits around three years ago.
"When you spoke to Anil on the street he would not say hello like the others did," she said.
"He started wearing the robes as well. I was quite frightened of him a little bit. He was not the same."
The neighbour said the father is rarely seen as he would sleep during the day and work at night but the mother was very much involved in the local community.
"Kamala is a gorgeous lady, really friendly, tries to integrate in everything. She's really nice. Poor Kamala, she really misses her parents in Afghanistan and she misses the sun."
Another neighbour said: "Kamala is a lovely, lovely woman, completely part of the street's life, not at all isolated, since the day they arrived.
Anil Raoufi is understood to have enrolled at university and attended a local mosque before going to Syria.
Detective Chief Inspector Will Chatterton, of the north west counter-terrorism unit, said: "Officers investigating a reported death of a British citizen in Syria are today, Thursday February 13 2014, carrying out a search of a house in Manchester.
"As part of this inquiry, officers are also providing support to the family and are speaking to them to understand how a man from the North West came to be reportedly killed in Syria.
"As part of the National Prevent Strategy, officers are working to assess how people are drawn into travelling to Syria to become involved in conflict and how to prevent others doing the same.
"There is widespread concern about the situation in Syria and other conflict zones and the way that some will be driven to travel there to engage in humanitarian work or to take part in the fighting.
"We know that some have already lost their lives or been detained by the regime and badly treated.
"It is vital that anyone who has concerns that someone may be considering such travel informs the authorities.
"The best way for people to help is to donate to registered charities with ongoing humanitarian operations in Syria and the region.
"The Prevent Programme does work to ensure charities which claim to raise funds for those suffering in conflict zones are genuine.
"We need the help of the Muslim community and specialist press to ensure that the understandable desire to help is not exploited to actually exacerbate the conflict."