A German pensioner, blinded by a police water cannon, is set to address a public meeting in London debating the use of the cannons in Britain, after opponents of the measure raised the cash to pay for his airfare.
Dietrich Wagner was left unconscious, his eyes irreparably damaged when he took the full force of a water cannon to the face during an environmental protest in Stuttgart.
His eyelids were torn by the force of the water, damaging the lenses of his eyes and fracturing his orbital bone around the eye. Dietrich Wagner was protesting at a park in Stuttgart when he was hit in the eyes by a water cannon
Protesters are set to gather outside London's city hall on Monday before the official public meeting, with speakers including Wagner, and Baroness Jenny Jones, the former mayoral candidate and Green Party London Assembly Member.
Joanne Darrant, a mother of two from Stoke-on-Trent, who began the petition, said the proposal made her "seriously question how their use is going to be properly monitored and how innocent people will be spared from getting hurt.
"As with the practice of kettling, water cannons are rarely used against dangerous rioters but as a way of deterring the peaceful protesters from future direct action."
The Metropolitan Police has repeatedly stressed the benefits of the cannons as a crowd control measure, in the aftermath of both the 2011 London Riots and the student fees protests.
In January, Mayor of London Boris Johnson wrote to the home secretary informing her of the public consultation on whether the cannons could be used in "extreme circumstances".
WARNING: GRAPHIC IMAGE BELOW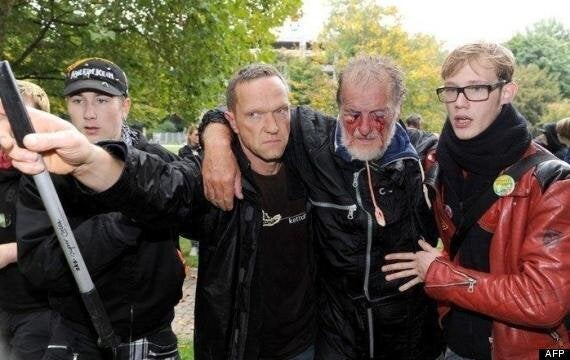 Wagner, after he was injured by the water cannon
A final decision by London policing authorities is expected by the end of the month, but then Theresa May make the final decision whether to licence the machines.
"Water cannon would be useless in that situation, as police have admitted themselves."
Home Office Minister Lord Taylor of Holbeach said the government was considering if water cannons "may be of use in future in tackling the most serious disorder".
"The home secretary will make a decision on the use of water cannon when she receives the authorisation package from Chief Constable David Shaw and at that time she will consider the factors," he said.
Related