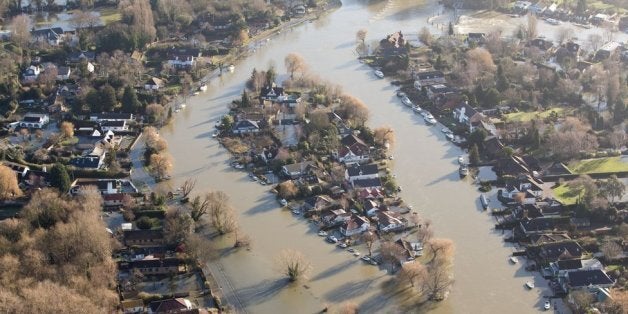 David Cameron has described the flooding that has hit parts of the country as a "tragedy" and warned people to brace for more bad weather this week.
The Prime Minister chaired another meeting of the Government's Cobra emergency committee last night as the huge-clean up operation got under way following some of the worst flooding in decades.
Mr Cameron, who has unveiled a £10 million package of support for flood-hit businesses so they can clean up and keep trading, is expected to meet residents, volunteers and troops in flood-hit parts of Worcestershire and Gloucestershire today.
He said: "I am hopeful that the work to strengthen long-term flood defences, and the emergency measures which have been put in place over recent days and weeks will mean that we can minimise the number of homes and businesses affected by the latest high water levels.
"The recent flooding has been a tragedy for all those affected and my thoughts are with them. While it is of no comfort to those individuals, over 1.3 million other homes have been protected since December and we will continue to invest in flood defence measures to protect even more.
"Extensive efforts to protect and repair properties and infrastructure are ongoing by many thousands of people among agencies, the military and the emergency services. I speak for us all when I thank them profusely for their hard work."
Earlier, Defence Secretary Philip Hammond defended the Government's handling of the crisis but admitted the military could have been brought in earlier to help deal with the winter storms that have wracked the country and claimed a number of lives.
He said Royal Engineers were now being tasked to carry out a high-speed assessment of "serious" damage to the UK's flood defence infrastructure but conceded that in future the Government would involve the military earlier in the process and be more "aggressive" in urging local authorities to use troops.
Mr Hammond said more than 3,000 troops were currently deployed to help and 5,000 more were available if needed.
Swathes of the UK remain on high alert as people battle to protect their homes and communities from the floodwaters, which are still expected to rise in places despite yesterday's calmer conditions.
Sporadic rain is expected in the coming days, bringing fears of the possibility of water levels rising once again, but forecasters are predicted a largely drier week ahead.
Another spell of rain is expected in the South West today, the Met Office said, with 10mm to 20mm (0.4in to 0.8in) falling quite widely and up to 40mm (1.6in) over higher ground, exacerbated the problems for areas already flooded.
The Environment Agency (EA) said 16 severe flood warnings remain in place for the South West and the Thames Valley, with nearly 130 flood warnings and more than 180 flood alerts.
There are still widespread delays on many rail services, with Arriva Trains Wales, Chiltern Railways, CrossCountry, First Great Western (FGW), London Midland, South West Trains, Southeastern and Southern all reporting major delays.
FGW said the majority of services into and out of London Paddington would be restored from today, with 75% of services running as normal.
Local services will also be running between Reading and London on Monday, though some trains won't be able to run because of flooding affecting signalling equipment near Maidenhead.
The severe storms have taken a devastating human toll in recent days.
Two people died on Friday - James Swinstead, 85, an elderly passenger on a cruise ship in the English Channel, and minicab driver Julie Sillitoe, 49, whose car was hit by falling masonry in central London.
A 20-year-old pregnant woman and her unborn baby, from Tredegar, south Wales, also died in a crash on the A465 between Brynmawr and Garnlydan.
Mother-of-three Mrs Sillitoe was killed close to Holborn Underground station after large chunks of masonry fell on to her silver Skoda Octavia on Friday night.
Mr Swinstead also died on Friday after the 22,000-tonne Marco Polo cruise ship was hit by a freak wave in the English Channel.
An injured woman in her 70s was also airlifted off the vessel, while 14 other people suffered minor injuries and were treated on board.
Firefighter Clifford Cox, 53,died of an apparent heart attack while on duty in a flood-hit area on Saturday night, but it is unclear whether there was any link to the storms.
A break in the weather yesterday meant hundreds of tonnes of debris could be pulled from the River Severn in Worcester after being swept up in the huge flood swell.
A mechanical digger was brought in to recover the debris, which included 30ft trees, a garden shed and a wheelie bin from around the stonework footings of the city's main bridge.
In the stricken Somerset Levels, the clean-up process was hindered after a number of high volume pumps brought over from the Netherlands had to be switched off as they were eroding the river bank.
And in Hampshire members of the public were warned to stay away from unexploded shells that have been exposed during the storms.
Nearly one million homes have been without power after downpours and high winds during the last week.
Meanwhile, a poll by ComRes for the Independent on Sunday and Sunday Mirror found that just 59% of people thought the Government was "beginning to get a grip" on the flooding.
Some 48% said the storms had made them more convinced that climate change was happening, compared to 30% who said their views had not changed.
An Opinium poll for the Observer found 51% thought Mr Cameron had responded badly to the floods.
Some 51% of those questioned said they believed issues around climate change and global warming caused the floods while 24% did not take that view, and 20% were neutral.
Popular in the Community