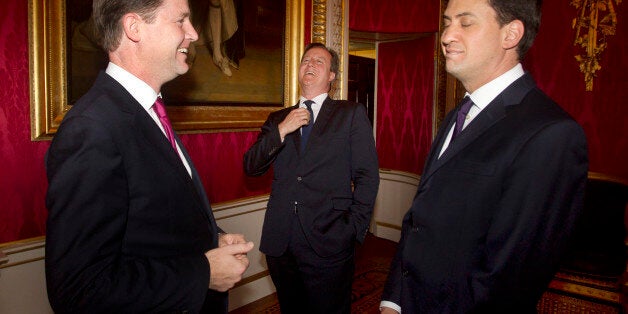 Nick Clegg has fuelled speculation that he is positioning for coalition with Labour next year by saying he believes Ed Miliband's party has "changed".
But Ed Miliband has indicated he's not interested in the pairing, stating: "What I'm looking for is a majority Labour government."
Hinting at his desire for a deal with Labour, the Deputy Prime Minister also criticised the Tories for lurching to the right, accusing his current partners in government of becoming "much more ideological" since 2010.
Amid signs of growing tensions with David Cameron's party after nearly four years of government, Mr Clegg said: "I think the Conservative Party has changed quite dramatically since we entered into coalition with them.
"They've become much more ideological, they've returned much more to a lot of their familiar theme tunes.
"I think it would be best for everybody if the Conservative Party were to rediscover a talent for actually talking to mainstream voters about mainstream concerns."
The comments, made in a BBC Radio 4 documentary, follow an apparent thaw in relations with shadow chancellor Ed Balls.
The animosity between the men had previously been regarded as a major obstacle to the two parties joining up if there is a hung parliament after next May's general election.
Asked about Labour on the programme, Mr Clegg said: "I think they've changed. I think there's nothing like the prospect of reality in an election to get politicians to think again and the Labour Party, which is a party unused to sharing power with others is realising that it might have to."
He said that if such a pact was formed, the Lib Dems would set out to restrain Labour from spending too much.
"There is just no doubt in my mind that if there were a Labour-Liberal Democrat coalition, we the Liberal Democrats would absolutely insist that government would not break the bank," he added.
But Labour leader Ed Miliband told ITV's Daybreak that Mr Clegg should focus on his own party.
"I think what I'm looking for is a majority Labour government. There are such big issues that the country faces, I think Nick Clegg should be worried about the Liberal Democrats.
"I don't know what his interview said. I haven't seen the interview. But I'm clear, I'm working for a majority Labour government."
He went on: "I'm interested in how do we work for for a majority Labour government? How do we change this country? And that's where absolute 100% of my focus and the focus of my party is."
When pushed on whether he would consider a coalition with the Liberal Democrats, Mr Miliband said: "What I say is let's not get into that. Let's get into the people, looking at the options. I want a majority Labour government. That's what I'm going to work for.
"And I don't think the parties, in advance of elections, should be engaging in this. I think what they should be engaging in is how are we going to change the country? What are we offering the country? And that's what I'm interested in."