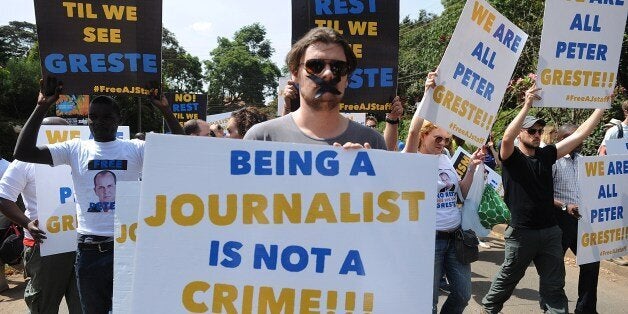 Signatories to the letter, which include BBC News, ITN, Sky, Reuters, NBC News and ABC, are demanding the immediate release of the prisoners, who have been accused by the Cairo government of aiding a terrorist group and endangering national security.
The letter reads: "Since December 29 last year the foreign correspondent Peter Greste has been held with two Al Jazeera colleagues in Egypt's Tora prison, accused of news reporting which is 'damaging to national security'. This week he goes on trial.
"We know Peter Greste to be a fine, upstanding correspondent who has proved his impartiality over many years, whichever of our organisations he has been working for, and in whichever country. In one of his letters from prison, Greste writes that he had only been in Cairo for two weeks before interior ministry agents came into his hotel room.
"'We had been doing exactly as any responsible, professional journalist would - recording and trying to make sense of the unfolding events with all the accuracy, fairness and balance that our imperfect trade demands.' That fits the man we know."
The letter continues: "He returned to Afghanistan to cover the start of the war in 2001, then roamed across the Middle East, Latin America and, for the last nine years, Africa, where he is the correspondent for Al Jazeera. In all that time, he has polished his journalistic reputation.
"Greste is being put on trial because of the Egyptian government's decision on December 25 to add the Muslim Brotherhood to its list of terrorist organisations. He writes that when this happened 'it knocked the middle ground out of the discourse. When the other side, political or otherwise, is a "terrorist", there is no neutral way... So, even talking to them becomes an act of treason, let alone broadcasting their news, however benign.'
"In total, twenty journalists including Greste are facing charges. Sixteen are Egyptians accused of belonging to a 'terrorist organisation' and four are foreigners accused of assisting it, or spreading false news. We think the Egyptian authorities are profoundly mistaken in their actions.
"The role of an impartial journalist is to try to enrich people with knowledge, culture and information about their world: to report and explain, and to reflect all sides of the story. Whatever the local conditions, a fundamental principle of any country should be freedom of speech - the existence of critical voices that can test the mettle of a system. As history shows, that's vital.
"So we think Egypt's move is deeply damaging to the future of impartial journalism in the country and that its actions are unjust, and unacceptable. A hard-working, honourable journalist, with a track record of achievement, has been put in jail, awaiting trial, for honestly practising his trade.
"So we would like to add our voices to those that have called for his release, including the United Nations High Commissioner for Human Rights. Peter Greste and his colleagues should be set free so that they can continue with the kind of impartial, balanced reporting he has so eloquently defended from his prison cell."
More from the Press Association:
On Wednesday, journalists, politicians and human rights activists will gather outside the Egyptian embassy in London to demand an end to the intimidation of journalists in Egypt and call for the immediate release of all detained journalists. The demonstration, organised by the National Union of Journalists (NUJ), will start at 11.30am and is being held the day before the trial of four journalists begins.
Under the charges, foreign-born journalists could face up to seven years in jail, and Egyptian journalists up to 15 years. Journalists from Al Jazeera English currently under detention are Greste, Mohammed Fadel Fahmy and Baher Mohammed, who have been detained since December 29. Their colleague Abdullah Al Shami, of Al Jazeera Arabic, has been detained since August 14 last year and is in the third week of a hunger strike, the NUJ said.
Michelle Stanistreet, the union's general secretary, said: "The situation facing journalists working in Egypt is dire. The arrests and brutal attacks are a deliberate attempt to silence journalists and prevent them from doing their job - giving citizens access to vital information and news.
"The trial of Al Jazeera English journalists, on ludicrous allegations of damaging national security, should be halted and all journalists immediately released. This repression of all journalists in the country, who are operating under outrageous pressure and intimidation, undermines press freedom in Egypt and calls into question the government's attitude to basic human rights."
The Egyptian authorities published a list on February 5 of 20 journalists they accused of aiding terrorists while working in the country. Of the 20, nine are Al Jazeera staff. Correspondent Sue Turton, one of the 20 accused, is expected to attend the demonstration. Turton, an award-winning correspondent who worked for Sky News, ITN and Channel 4 before Al Jazeera, and who has reported from Afghanistan, Libya and Ukraine, said: "I am astounded that a warrant is out for my arrest because of my reporting in Egypt last year.
"I didn't treat the situation there any differently to every other story I've reported on in almost 25 years as a TV reporter. I have no allegiance to any political group in Egypt or anywhere else and no desire to promote any one point of view."
Popular in the Community