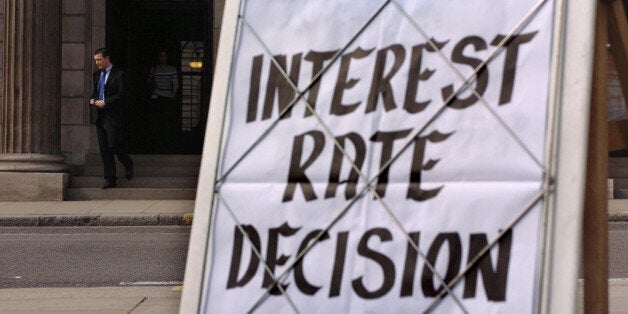 Interest rates are "most likely" to rise as soon as spring next year, in a move that would potentially hit families and small businesses as the cost of borrowing soars, a Bank of England policymaker has warned.
Martin Weale, member of the Bank of England's nine-strong Monetary Policy Committee (MPC), predicted that the rate rise from its 0.5% historic low could come before the 2015 general election.
He told Sky News: "I think it is very helpful if we try and explain that the most likely path for interest rates is that the first rise will come perhaps in the spring of next year. And then the path is likely to be relatively gradual."
Weale suggested that interest rates could rise sooner if Britons' pay packets start to rise more quickly than predicted, with them set to stop being eaten into by inflation in the second half of this year.
The Bank of England last August promised to not even consider increasing borrowing costs until the unemployment rate hit a 7% threshold under their "forward guidance' plan.
Carney insisted a more "nuanced" form of interest rate policy was needed, rather than a single threshold used by the Bank for six months that it described as "well understood".
However, Weale suggested that the Bank may have overestimated the amount of spare capacity in the economy, at 1 to 1.5% of GDP, marking the extent to which an economy can grow without forcing policymakers to hike interest rates to keep inflation under control.
But another Monetary Policy committee member David Miles argued two days ago that it was "possible' that there was more spare capacity than the Bank of England calculated, suggesting a split among Bank officials.