Graphic images of protesters engulfed in flames, and police bombarded with rocks and Molotov cocktails, have emerged as reports come of more deaths in the warzone that is Kiev's city centre, after a tentative truce crumbled.
Reporters on the scene said live rounds were being used throughout the night, but with no indication as to which direction the bullets were coming from.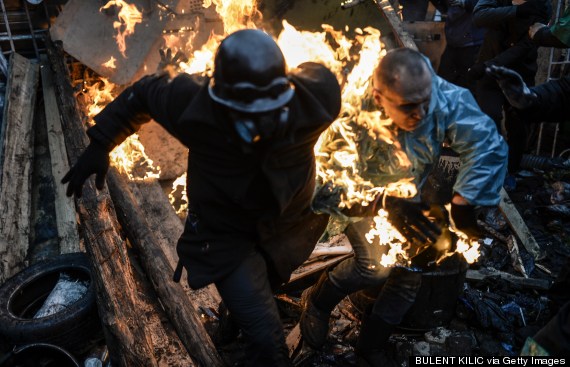 Protesters burn as they stand behind barricades during clashes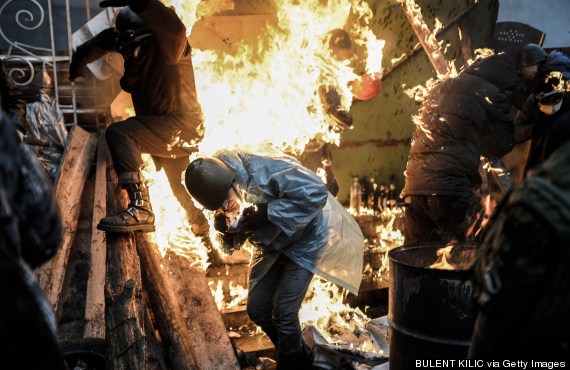 Kiev's protesters set their barricades on fire to prevent police breaking through
On Thursday, the Ukrainian Health Ministry reported 28 people have now died, with 287 hospitalised, but activists say the numbers are now far greater.
This morning, a Reuters photographer reported seeing ten bodies lying on the ground, covered by blankets in Independence Square. The editor for the Kiev Post said he had counted 35.
The enormous and imposing Hotel Ukraine, which stands above the square, had become a makeshift hospital and morgue on Friday morning, with medics treating the injured in the hotel lobby.
10 bodies just gathered right in front of my hotel. Many more to come, fighters say pic.twitter.com/5LbuKAusNu

— Olaf Koens (@obk) February 20, 2014
Protesters had set their own barricades of tyres and debris alight, creating a wall of black smoke and fire in Kiev's Independence Square.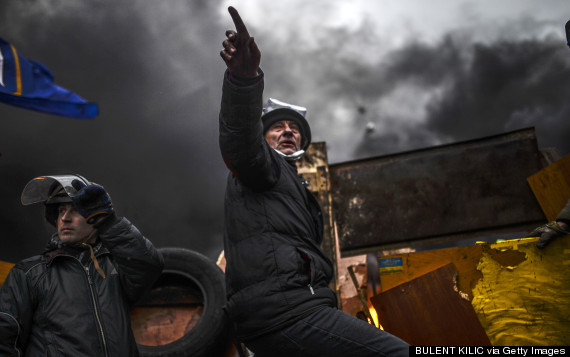 Protesters stand behind barricades during clashes with police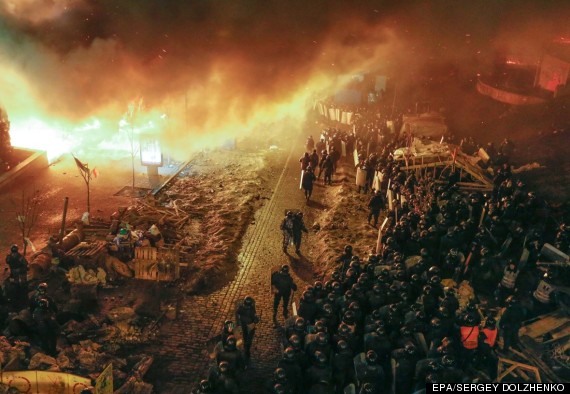 Ukrainian riot police stand in front of the fire ring around of the Independence Square
Three EU foreign ministers, from Germany, France and Poland, arrived in Kiev yesterday, and a EU meeting in Brussels will follow to consider sanctions against the beleaguered nation, with an economy already in ruins.
Plans were to hold talks with both sides, but on Friday morning there were conflicting reports that the ministers had been unable to meet Yanukovych, because of security concerns. Poland's foreign minister Radosław Sikorski tweeted that the ministers had been unable to get to the Presidential Palace, with the meeting moved to another location.
The country is spilt down the centre, with the western regions backing closer ties with Europe, but southern and eastern regions, where the locals speak Russian, supporting Ukraine's president Viktor Yanukovych and closer relations with Russia.