WARNING: VERY GRAPHIC IMAGES BELOW
The European Union has moved to impose sanctions on Ukraine following an escalation in the violence between riot police and protesters in the capital of Kiev. More than 70 people have reportedly been killed in the past two days after police stormed and attempted to burn a protester camp. Subsequent clashes left fatalities on both sides, with demonstrators attacking police with firebombs and police retaliating with snipers.
At a meeting in Brussels on Thursday, EU leaders agreed to impose the sanctions, which will target those responsible within the government for the continued violence. The sanctions will include an asset freeze and a travel ban on officials close to the Ukrainian president Viktor Yanukovych.
Prime Minister David Cameron spoke with German Chancellor Angela Merkel on Thursday, agreeing that it was incumbent on Yanukovych to withdraw the police and start negotiations.
The White House echoed that sentiment, with officials in Washington urging Yanukovych to pull back from Central Kiev. In a statement, the White House press secretary said that Ukraine should respect the right of protest and that protesters must be peaceful.
According to a Downing Street spokesperson, Cameron and Merkel expressed their "extreme concern" over the violence, with the pair agreeing that the "immediate priority must be to stop the violence and that President Yanukovych has a particular responsibility to help de-escalate the situation by pulling back government forces."
The spokesperson added: "They discussed how they could work together and with international partners to foster a solution to the crisis. They agreed to do all they can to secure support from all sides in Ukraine for a possible roadmap, proposed by European foreign ministers in Kiev earlier today, which could lead to a peaceful solution to the crisis."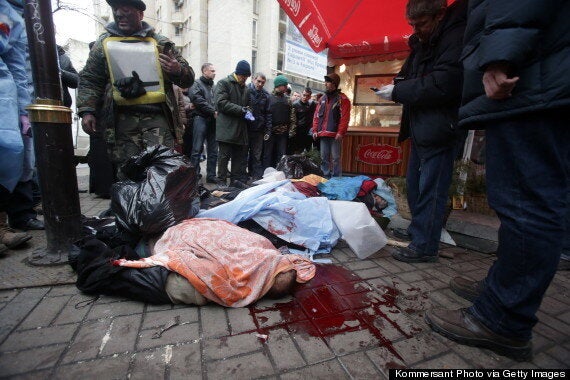 Dead anti-government protesters lie covered after clashing with police
More from the Press Association:
Diplomats in Brussels said that sanctions were agreed unanimously by the foreign ministers of the 28-nation bloc, including Foreign Secretary William Hague. Measures will be targeted at officials blamed for human rights violations that have occurred during the crackdown on anti-government protests, but the list of those involved has yet to be drawn up. The scope of sanctions will be adjusted according to developments on the ground.
Speaking ahead of the emergency Brussels meeting, Hague said that Britain condemned the bloodshed in Kiev "in the strongest possible terms" and called for an "immediate and far-reaching change" in attitude of the authorities. "By permitting such action to take place, the Ukrainian government is putting itself at odds with reasonable opinion all across the world," said Hague. "It is not right to describe protesters as terrorists. A great many of them are simply seeking a better future for their country."
Earlier the Ukrainian ambassador to London, Volodymyr Khandogiy, was summoned to the Foreign Office for the second time in as many days to be told that the action to crush the protests was "unacceptable". The EU sanctions were welcomed by Labour leader Ed Miliband, who said on Twitter: "Scenes of violence in Ukraine are utterly appalling. EU sanctions welcome and Government must continue to work with our partners to end bloodshed." Anti-government protesters carry body of their killed comrade in central Kiev
The clashes this week have been the most deadly since protests kicked off three months ago after Yanukovych shelved an association agreement with the European Union in favour of closer ties with Russia. Moscow then announced a multibillion-pound bailout for Ukraine, whose economy is in tatters.
Europe minister David Lidington, who summoned Khandogiy to the Foreign Office, said that he had challenged the ambassador over reports that Ukrainian authorities were behind the latest killings. "His reaction is that he was not able to give me a definitive view about that," he said. "I said that these reports were particularly shocking, because if those reports are substantiated then that would suggest that people who were trained in marksmanship were involved, and that does point to people who have been trained officially in some way.
"But I think the key thing there is that, in light of what has happened, there should be a full and independent and thorough investigation of those killings - the people responsible for those shootings need to be held to account, wherever they come from."
Leaving the emergency meeting, Hague said there had been "a strongly united discussion and decision among the EU foreign ministers". He added: "There is widespread horror in the European Union as well as in the United Kingdom at the scale of the loss of innocent life and the events of the last 48 hours.
"Of course we call on all involved to turn away from violence, but some people are responsible for the violence and so we have decided to introduce targeted measures and targeted sanctions involving visa bans and asset freezes on those individuals who are responsible.
"The scale of the implementation will depend on developments to come and of course we want to see success in government and opposition working together in order to bring about a peaceful situation and a peaceful and democratic settlement of the issues in Ukraine. But that is the decision the council has made today." Activists evacuate a wounded protester during clashes with police
Hague said it was also agreed that EU states would make sure they are not supplying to Ukraine "any equipment that can be used for internal repression". He said the sanctions would send "a strong signal... of how unacceptable this is".
"It should be unacceptable in any city or country in the world, unacceptable in a European city, a European country," said the Foreign Secretary. "And it's a signal of the EU's determination to do something about that."
Shadow foreign secretary Douglas Alexander said: "In response to the ongoing horrific violence unfolding in Kiev, EU foreign ministers were right to agree targeted EU restrictive measures to put pressure on the Ukrainian authorities to bring the crisis to an end.
"The UK Government must now urgently implement the agreed restrictions, in particular asset freezes and visa bans which could take immediate effect. The Ukrainian authorities bear a heavy responsibility to de-escalate the crisis and must now open a fresh and serious dialogue with the opposition."
At a press conference following the Brussels meeting, the European Commission's High Representative for Foreign Affairs, Baroness Ashton, said: "We decided as a matter of urgency we needed to look at targeted sanctions. We've agreed to suspend export licences for equipment for internal repression.
"And we've asked the relevant working bodies of the Council to make the necessary preparations immediately." Sergey Lavrov, the foreign minister of Russia - the most significant international backer of Mr Yanukovych's regime - accused the West of "double standards" over Ukraine.
Speaking during a visit to Iraq, Lavrov said: "The opposition cannot or does not wish to distance itself from extremist groups. Our Western partners and everyone in Europe and the US put all the blame on the government of Ukraine and they do not condemn as they should the actions of the extremists. We are very troubled by all that, because the double standards are obvious here." Activists pay respects to protesters killed in clashes with police
The Foreign Office updated its travel advice for Ukraine to advise against all but essential travel to Kiev. UK nationals currently visiting or living in Kiev are advised to stay inside.
Cameron later spoke by phone with Russia's President Vladimir Putin and Donald Tusk, Prime Minister of Ukraine's western neighbour, Poland. A Downing Street spokesman said: "The Prime Minister has made further phone calls on the terrible situation in Ukraine. He called President Putin shortly after 6pm, followed by the Polish Prime Minister, Donald Tusk."
The spokesman added: "All three leaders support the idea of a roadmap that has been put forward by European foreign ministers in Kiev today. The Prime Minister agreed with President Putin that they should both encourage all sides in Ukraine to get behind this emerging plan as a way to end the violence and open the way to a lasting peaceful solution.
"The PM and Prime Minister Tusk discussed the EU targeted measures approved today and agreed that the EU should continue to look at the ways it can promote a peaceful and democratic settlement in Ukraine, recognising that continued violence will make it harder to reassure all Ukrainians that their legitimate aspirations will be realised."