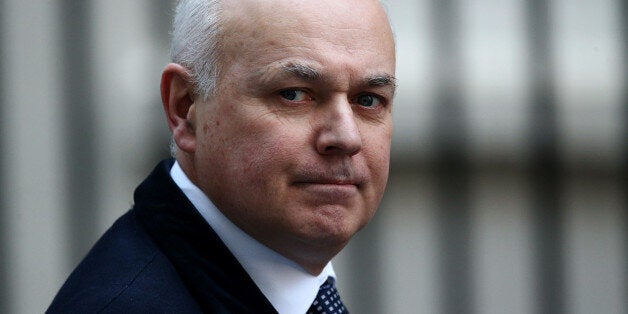 Iain Duncan Smith's Department for Work and Pensions could charge those who have been automatically stripped of benefits to fight the decision in an appeal to an independent judge.
This comes as official DWP figures showed that more than half (54%) of the 874,850 jobseeker's allowance claimants who had their benefits automatically stripped in the last year were for low-level problems like missing an appointment with a Jobcentre official.
The DWP review suggested that the proposed "introduction of a charge for people making appeals against [DWP] decisions to social security tribunals" was "under investigation" by officials in the Ministry of Justice (MoJ), who manage policy around tribunals.
WIlliam Morris, who runs the House of Bread food bank in Stafford, Staffordshire, told HuffPostUK that he thought the sanctions were "immoral".
He added: "To allow people to be abandoned and to be stuck on the edges of our society is immoral. We push them to edges of society and push them and push them until they just drop off the edges. That's not the right value, whether it's a Christian value or human value. They're not cannon fodder, they are the human cost."
According to the DWP review, officials "intend to revisit" the proposed charge after the MoJ's move to bring in charges of up to £250 to lodge an appeal at an employment tribunal faced a legal challenge by the Unison trade union, which saw high court judges end up declaring the policy lawful.
Rachel Reeves, shadow work and pensions secretary, warned: "When government's own figures show a staggering 58% of appeals against Department for Work and Pensions decisions to dock jobseeker's allowance are upheld, it's clear the system is broken.
"Rather than penalising thousands of people by charging them to appeal, ministers need to ask why they are presiding over a broken system which is making so many bad decisions, which are overturned on appeal."
But justice minister Shailesh Vara said: "The government has made clear that reducing the deficit is our top priority. It is right that the Ministry of Justice looks at all opportunities to bring down the cost of our services to the taxpayer.
"We believe that it is right to consider whether those who use tribunals should make a greater contribution to their costs, where they can afford to do so, which is why we introduced fees for employment tribunals last year.
"We will continue to keep the position under review, but we have no current plans to extend fee charging into other tribunals."