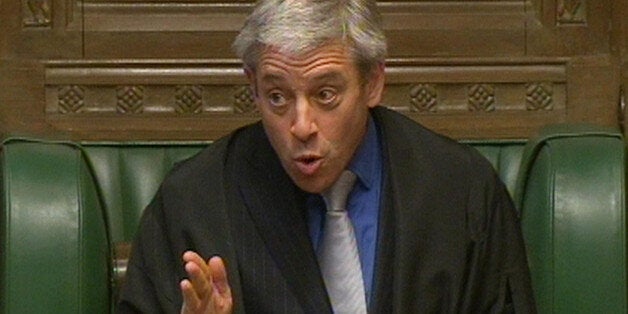 The way John Bercow insults MPs can be "quite hurtful" a Conservative MP has said, amid calls for prime minister's questions to be reformed.
Andrea Leadsom told BBC Daily Politics on Monday that the Speaker of the House of Commons was as guilty of bad behaviour as MPs .
"I don't like him insulting colleagues, he's as bad as anyone when it comes to personal insults. Sometimes it's funny, other times it's downright quite hurtful," she said.
However the South Northamptonshire MP defended Bercow from accusations that he was biased against the Tories or was not up to the job.
"I think he is rather a good Speaker, he certainly defends the backbenches very well in terms of their right to speak, he keeps us all to order," she said.
Bercow frequently chastises MPs for breaking parliamentary rules or for being too rowdy during heated debates. Earlier this month he told off Michael Gove for being a "very over excitable individual" and told him to "write out 1,000 times 'I will behave myself at prime minister's questions'".
Last week Bercow said there needed to be an end to the "yobbery and public school twittishness" of PMQs to show that MPs can behave better than children.
But Tory MP Alex Alec Shelbrooke responded by Tweeting: "Bercow needs to look in the mirror. Betty never had the need to resort to whining. His biased approach is why he's lost control of PMQ's."
Ed Miliband has suggested his attempts to strike a less confrontational tone at PMQs have been hampered by the oppositional "cauldron" of the House of Commons.
He told BBC Radio 4's The World This Weekend: "I think it was President Obama who said you can disagree without being disagreeable and in a way maybe that's a sort of lesson for Prime Minister's Questions.
"But it's easier to state and harder to execute. The cauldron of the House of Commons is not conducive to the kind of atmosphere that that invites.
"But we should always endeavour to do it, we should endeavour to be proud of the show we put on for the country and not giving people a sense that you know their kids behave better than we do."
Related