In the absence of any formal announcements, and with unofficial North Korean mouthpiece Dennis Rodman currently indisposed, the reappearance of a pink "maternity" coat is being taken as a major sign Kim Jong Un is going to be a daddy again.
The North Korean leader's wife Ri Sol Ju was pictured with her husband at a sporting event in Pyongyang earlier this month, wearing what looked suspiciously like a coat she wore when pregnancy rumours were rife in 2012.
Though no public statement has ever been made by the notoriously secretive communist state, Kim's "friend for life" former NBA star Rodman apparently let slip a major secret in March last year, revealing the leader had a new baby daughter.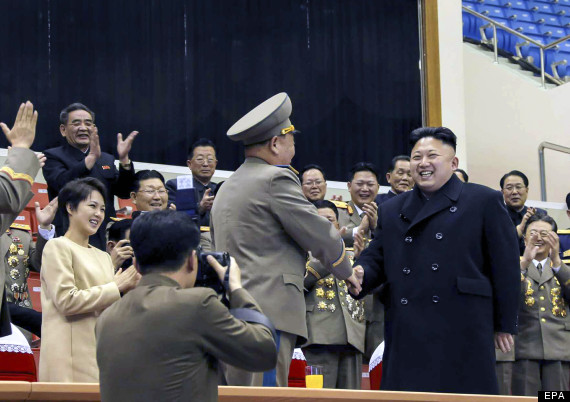 Exhibit A: Ri Sol Ju accompanies Kim Jong Un at an event in North Korea on 16 February, wearing a very familiar coat
Rodman entered rehab for alcohol addiction in January following his most recent trip to North Korea, an eventful visit which reportedly saw him vomit and defecate all over the Koroyo Hotel.
So while we must do without Rodman's loose tongue for now, pregnancy speculation does not rely solely on the significance of Ri's coat.
"There have been rumours that Ri is pregnant again for a few weeks now," Toshimitsu Shigemura, a professor at Tokyo's Waseda University and an authority on North Korean affairs told The Telegraph.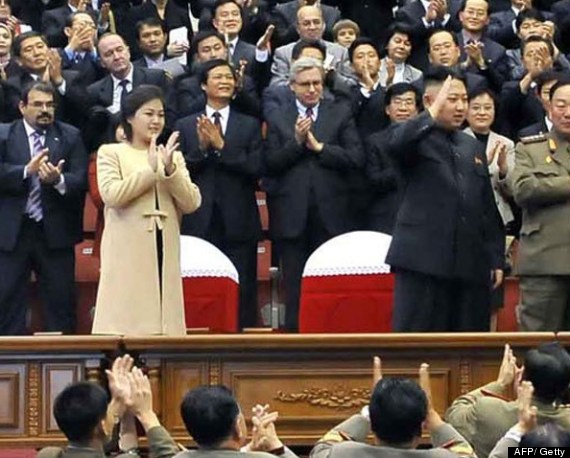 Was there a Lil' Kim on the way? Ri Sol pictured in September 2012
He added: "This is not really a surprise as Kim needs a son as a successor for the dynasty that has ruled North Korea since it was founded by his grandfather, Kim Il-Sung.
"It's absolutely impossible that a daughter could take over as leader, so his wife needs to give birth to a son." BFF: Dennis Rodman and Kim Jong Un at a basketball game in Pyongyang