It's a good job Kim Jong Un and Dennis Rodman are such good friends.
Because Rodman appears to have let slip a major state secret – by revealing the North Korean leader has a baby daughter.
Rodman, who was pictured cosying up to Kim at a basketball game in Pyongyang earlier this month, let the cat out of the bag in an exclusive interview with The Sun. BFF: Dennis Rodman and Kim Jong Un at a basketball game in Pyongyang
Referring to Kim's wife Ri Sol-Ju, he said: "She kept talking about their beautiful baby daughter."
Back in December, there was speculation that Ri Sol was expecting after the First Lady appeared in public looking "heavily pregnant".
The couple are believed to have been married since 2009 and were already rumoured to have one child but this has never been confirmed by the notoriously secretive communist state.
In the same interview, Rodman insisted: "Kim is not one of those Saddam Hussein-type characters that wants to take over the world.
"He doesn't want to kill anyone – he wants to talk peace."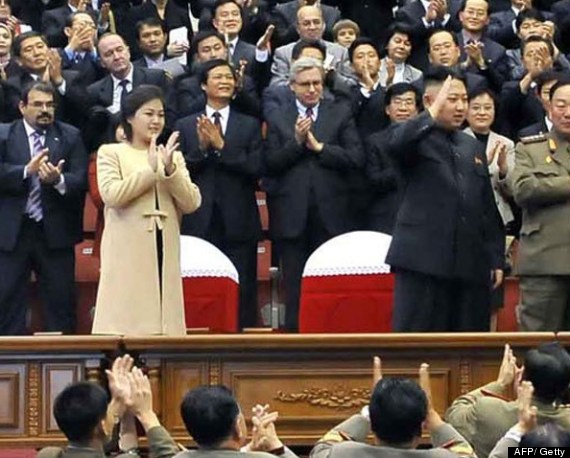 Was there a Lil' Kim on the way? Ri Sol pictured in September
Pyongyang sparked alarm around the world by testing a nuclear bomb in February.
The reclusive state confirmed it has successfully conducted a third underground nuclear test, defying UN orders to stop building atomic weapons. The provocative act has been interpreted as a clear warning to the United States.
Rodman's unlikely friendship with Kim blossomed earlier this month when the ex-NBA star visited North Korea to shoot a documentary about the country for America's HBO.
He was accompanied by three players from the professional Harlem Globetrotters exhibition team and a television crew from New York-based VICE media.
Rodman later cemented relations with his new buddy by addressing Kim in front of a crowd of thousands, telling him: "You have a friend for life," The Associated Press said.
SEE ALSO:
The Harlem Globetrotters combined with a team players from the Hwaebul basketball team of Korean University of Physical Education, drawing 110-110.
According to the Korean Central News Agency of DPRK, Rodman commented he was "very pleased to mix with Pyongyang citizens, adding that it is regrettable that the relations between the US and DPRK are not good, but Korean people are his friends."
Kim was presented with a Harlem Globetrotters basketball team uniform as a gift from his guests, before hosting a dinner which "proceeded in an amicable atmosphere."