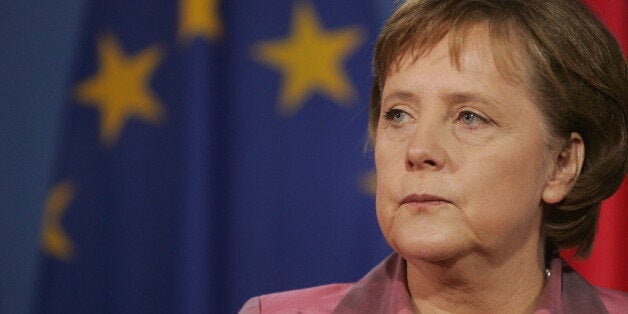 German chancellor Angela Merkel should use her visit to Britain to admit that the European Union was "built on German guilt" after World War Two, according to one of Britain's leading entrepreneurs.
Luke Johnson, who used to run Pizza Express, said it'd be "interesting" if Merkel "admitted on behalf of the Germans that the EU as a political construct was built on German guilt".
The former Channel 4 chairman's comments provoked gasps from the audience at a debate on Britain's place in the European Union, held at Bloomberg's London headquarters.
Alisdair McIntosh, director of the Business for New Europe (BNE) group, told HuffPostUK: "Surely our focus should be on the current challenges and opportunities facing the European Union, rather than on rehearsing sweeping and reductive views of its origins that may alienate its partners."
The German chancellor is set to meet David Cameron and give him special assurances in a new EU treaty to ensure that Britain's interests are protected in a single market.
Johnson went on to point out that the two main languages in the EU were English and the "long-term dying language" of French, adding: "Why do the Germans not insist that it is German?"
German-born Labour MP Gisela Stuart supported Johnson's remarks, saying that the EU was Germany's "rehabilitation".
She told HuffPostUK: "In one of Merkel's biographies, it is suggested that for her the post war Germany is shaped by the Holocaust and the US and it is the EU which is holding it together, so rather than "guilt" I'd say it was German rehabilitation.
"That's why Cameron and Merkel will never see eye to eye on Europe The EU is "existential" for Germany, but not for the UK."
Johnson criticised the European Union as a "totally broken" political bloc which is "not interested in a purely economic and trade area".
"We're all pro-Europe but it's the EU that's the problem. The EU doesn't focus on emerging markets, but protecting vested interests," he added.
Speaking alongside the serial entrepreneur, Newton Capital Management boss Helena Morrissey said the debate over whether Britain should leave the European Union was like being in a "bad relationship".
She explained: "You don't have to know who your next husband will be, you just have to leave."
Morrissey argued that the UK would "thrive, not just survive" outside of the European Union, warning that the country was being "held back" by being "shackled to a shrinking force".
BNE chair Roland Rudd, who heads the PR giant RLM Finsbury, said that the UK should stay in the European Union "because we change things".
He argued the UK was better off in because "the completion of the single market would mean a boost of 110bn euros to the European economy".
He added: "We do not just have a message of hope: reform is already happening."
Dale Murray, who sits on the Prime Minister's business taskforce said that "we see that change is coming from the report we produced" and that reform in Europe needed to be "pro-innovation, pro-growth and pro-innovation."