"Good morning class! We have a special treat today, the Deputy Prime Minister is coming speak to you today. He's a very important, well ok, sort-of important politician."
But the very important visitor received a less than courteous welcome from students at Southfields Academy, with one student appearing to give Clegg the middle finger as he addressed the school assembly in south west London.
Clegg was giving a speech at the school where he criticised the lack of career advice for students, who he said had told them that it "feels like a tick box exercise squeezed into lunchtime break with a busy teacher, who no doubt already has a lot on their plate.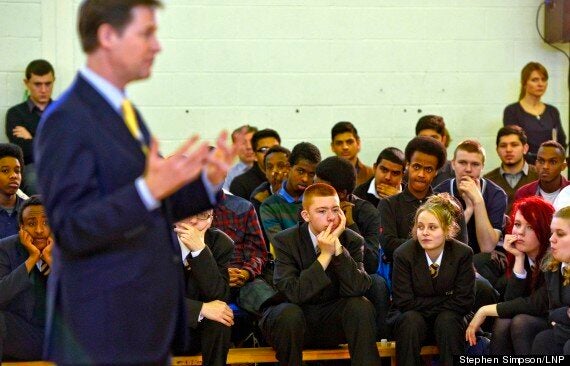 This young lad might be getting a call to the headteacher's office
"So, we are issuing new guidance for schools, in the next few weeks, that will set out just what good careers advice should look like. And not take-it-or-leave-it guidance. To make sure it's being followed, Ofsted will be looking more closely at the quality of careers advice and support available when they inspect schools."
He also announced plans for youngsters to get help at Jobcentres from age 16, with those without English and maths qualifications offered help in these subjects.
But the students seemed less than enraptured, with some fiddling with their hair, yawning, slumped in their seats and examining their nails.