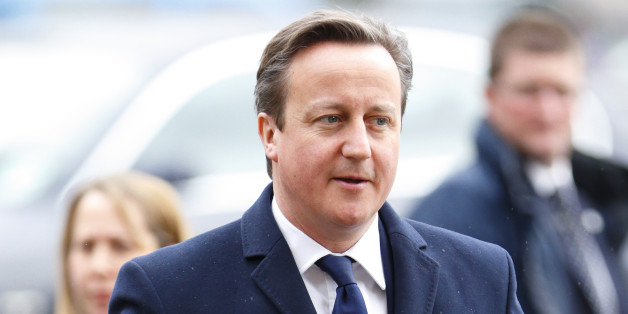 Max Mumby/Indigo via Getty Images
David Cameron will defend his Government's austerity programme against charges swingeing public spending cuts are being made for their own sake - insisting it is based on "values".
And the Prime Minister will encourage Tories seeking a commitment to future tax cuts by suggesting "every efficiency" found could help provide "a bit of extra cash" for hard-pressed families.
In a speech just two weeks before the Chancellor delivers the Budget, he will acknowledge a failure properly to explain the coalition's tough economic measures.
"Too often we've given the impression that we're just about fixing problems rather than changing things for a purpose," he will concede.
"But that completely misunderstands what we're trying to do. This is more than some turnaround team of accountants rescuing a failing business.
"Yes, we want Britain to be a success in this modernised globalised world, we want to be a country that succeeds in what I call the global race. But it's not just what we are doing that matters, it's why. It's all about values.
"And the most important value right now - after a difficult time for our country - is giving people a sense of economic security and peace of mind."
Cameron, who has made clear his desire to cut taxes if the Conservatives win power outright in 2015, said that security came from "having more money in our pockets".
Senior Tories are calling for the 40p income tax rate threshold to be raised in the Budget so it hits fewer workers, easing the burden on middle class voters.
They want George Osborne to raise it to £44,000 to stop people like teachers and police officers who "don't consider themselves even remotely privileged or rich" being hit.
The Liberal Democrats are pushing for the main income tax allowance to be raised to £10,500 in what Nick Clegg calls a "workers' bonus" of £100 off the bills of basic-rate taxpayers.
Scrapping Tory "pet tax projects" like the married couples' tax allowance would allow it to be raised still further, taking even more out of paying income tax altogether, he says.
Setting out his position on tax, Cameron will say seeking every possible saving was "important at the best of times but it's more important than ever when families are feeling the squeeze.
"Because every bit of government waste we can cut, every efficiency we can achieve is money we can give back to you.
"A bit of extra cash that can help a dad afford those trainers for his son or help a mum celebrate her daughter's birthday with a meal out.
"Having more money in our pockets is what gives everyone that sense of financial security and peace of mind. It's what enables us to provide for our families and feel more confident about the future."
Cameron will point to higher mortgage rates and "people living in fear of losing their homes" as a consequence of failing to deal with the deficit.
"But there's something even more fundamental here about our values. If we don't get to grips with the deficit now we are passing a greater and greater burden of debt to our children.
In a swipe at Labour, he will go on: "Can we really teach our children the importance of being responsible and at the same time shirk the most fundamental responsibility of all?
"Some of our opponents seem to think we can. They think we can carry on spending and borrowing more and more, whatever the consequences for our children.
"But I say no: racking up more and more debts for our children is irresponsible. It's not fair. It's not right. And I'm not prepared to do it."
Shadow chief secretary to the Treasury Chris Leslie said: "David Cameron has revealed his true values by the choices he has made.
"He's chosen to give the top 1% of earners a £3 billion tax cut while everyone else is worse off. Working people have seen their wages fall in real terms by over £1,600 a year on average under David Cameron's government.
"Tax and benefit changes since 2010 have also left families £891 a year worse off. Labour will act to tackle the cost-of-living crisis and earn our way to higher living standards.
"We will freeze energy bills until 2017, expand free childcare for working parents and cut business rates for small firms. We will also balance the books where this government has failed, but do so in a fairer way by reversing David Cameron's unfair tax cut for millionaires."