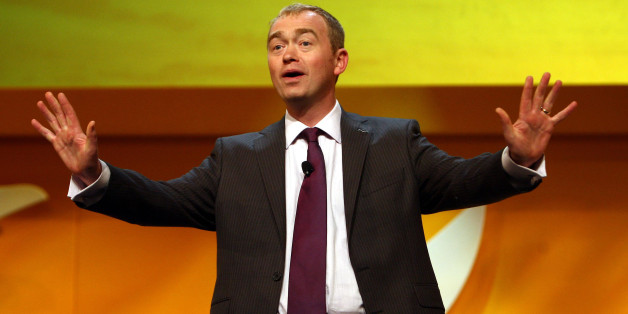 David Jones/PA Archive
People who want to leave the European Union are unpatriotic and would put the security of the country at risk, Lib Dem president Tim Farron has said.
In a speech at a rally for Lib Dem activists in York on Friday evening, Farron will invoke the crisis in Ukraine to warn against "nationalist forces" in Britain that want to take the UK out of the EU.
"As things stand, the UK will sleepwalk towards dangerous and impotent isolation, towards exit," he will say.
"Wrap yourself in the flag if you like, stick two fingers up at our friends and trading partners, leave the security and prosperity of Europe and cast us off on to the choppy seas in nothing more than a rowing boat.
"Do that, but do not dare call yourself a patriot. There is nothing patriotic about risking 3m jobs; nothing patriotic about risking our ability to fight crime and beat climate change; nothing patriotic about risking 70 years of peace and security.
Addressing the Ukip leader, he will add: "You see, Nigel, I'm a patriot. That is why I am in."
Speaking at the Lib Dem Spring conference, Farron will also seek to paint the upcoming European elections as a straight fight between the Lib Dems and Ukip.
"Ukip are wrong - but Labour and the Tories are too divided, too wet and too weak to say so," he will say. A vote for Labour or Tory this May is a wasted vote, because it will mean nothing. No one will know what you meant. And uncertainty is the worst of all worlds, it's the uncertainty that is killing British jobs and British influence.
"You've got David Cameron sitting on the fence and Ed Miliband hiding behind his sofa. By their own weakness, they have forfeited the right to be taken seriously in this election."
In a speech at the same event, Lib Dem business secretary Vince Cable will also warn that Ukip and eurosceptic Tories are putting at risk the union of the UK.
"How on Earth do you expect to persuade the Scots to ignore the siren voices of nationalism and separatism when you indulge in British nationalism and Euro-separatism?" he will say.
The highlight of the European parliament election campaign is likely to be the two head-to-head debates between Nick Clegg and Nigel Farage - scheduled for March 26 and April 2.