Ukip is suffering from a serious sense of humour failure – engaging in a battle to stop a comedy duo from touring.
Despite Nigel Farage insisting politicians should "let people tell their jokes," The Stop Ukip Comedy Tour has been inundated with complaints from party supporters targeting venues.
Ukip's deputy leader Paul Nuttal has condemned the "distasteful satire", calling on the Arts Council to investigate funding given to theatres hosting the act.
"Everyone is entitled to their own opinion and Ukip is very much the party of free speech but I think it is wrong that taxpayers money is being used to back this production."
The Ukip MEP for the North West Of England complained on the party website that: "This blatantly party political rubbish is being staged to coincide with the run-up to the Euro elections in May and I am appalled that one of the venues in the much lauded Royal Exchange Theatre in Manchester. I would have hoped they had higher standards than giving this show house room.
"I have written to the Arts Council about this matter and also the Royal Exchange expressing my views about this distasteful satire."
Defending comic Paul Eastwood, who cracked a string of gags targeting foreigners at UKIP's spring conference, Farage said: "I'm not going to comment on individual jokes, but I think we're in huge danger here.
"This was a guy telling jokes about national stereotypes, not racial stereotypes. We are heading down a road here where we would kill all humour in this country if we tear things to pieces.
"Enough is enough, let people tell their jokes. If what they say is inappropriate they won't earn a living because they won't get booked again."
The comedy duo have come under fire for their song about Ukip that suggests the party believes all Eastern Europeans "live off benefits and won't let us watch Jim Davidson" and wants "the Queen's jubilee [to] be every day."
The Royal Exchange Theatre, Manchester, said it had complaints from "loyal customers" who'd never visited, while abuse of the band has been posted on the theatre's website: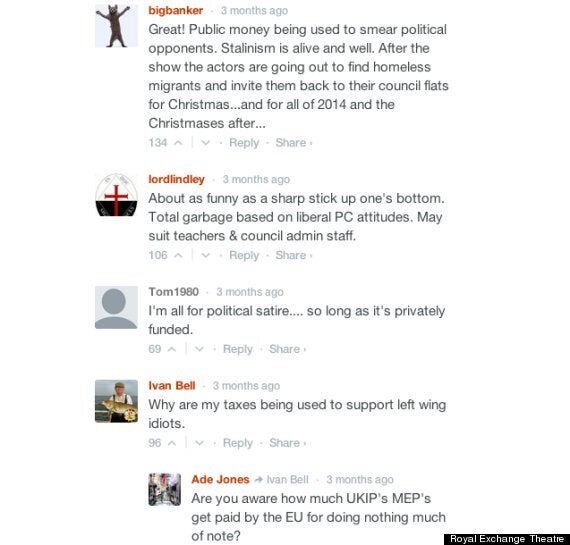 Related