Alex Salmond has demanded an apology from David Cameron for failing to tell Scottish ministers about a radiation problem at a nuclear submarine test reactor.
The First Minister said the UK Government had "disrespected" Holyrood and the people of Scotland by not alerting the Scottish Government to the problem for almost two years.
UK Defence Secretary Philip Hammond revealed on Thursday that Britain's oldest nuclear submarine, HMS Vanguard, is to have its reactor refuelled at a cost of £120 million after a test reactor operating in Scotland was found to have a small internal leak of radiation.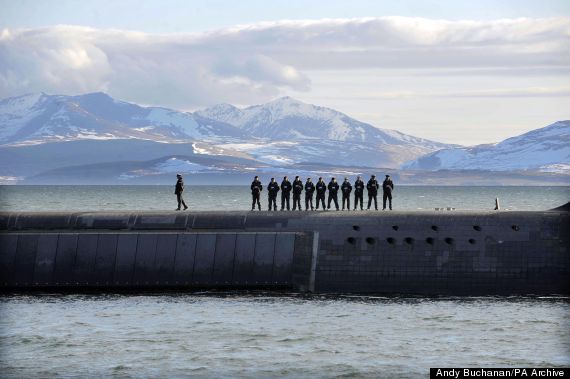 HMS Vanguard
He told the Commons the work was being carried out after ''low levels of radioactivity were detected in a prototype core'' at the Naval Reactor Test Establishment at Dounreay, Caithness, in 2012.
Hammond said the test reactor had been shut down after the fault was detected and both the independent Defence Nuclear Safety Regulator and the Scottish Environment Protection Agency (Sepa) had been informed.
Scottish Environment Secretary Richard Lochhead was notified of the situation shortly before Hammond's statement, the Scottish Government said.
In a letter to the Prime Minister expressing his "deep dismay", Salmond accused Westminster of ignoring its responsibility for good communication under the Memorandum of Understanding on Devolution (MOU).
He said: "I recognise that, in reserved areas, your government must decide what it chooses to share with us, but on areas devolved to the Scottish Parliament, you have an unarguable responsibility to share information with us.
"Clearly, by informing Sepa (although even that took until late summer 2012), the MoD recognised that the incidents impacted on environmental matters, yet specifically requested that the issue be kept on a strict need to know basis for security reasons.
"By ignoring the MOU in this way, your government has completely disrespected the Scottish Parliament - and the people of Scotland - as well as the democratic processes of the whole United Kingdom."
Salmond said the "lack of concern" shown by the UK Government on the issue was "as underhand as it is disrespectful".
He said: "As a government, we cannot tolerate this veil of Westminster secrecy being pulled over Scottish democracy and you must now offer an immediate explanation of why your government allowed this to happen, an apology for the disregard of established processes and a commitment that it will never happen again."
mfl
Page 2: 00:01
A Ministry of Defence spokesman said:"The Scottish Environmental Protection Agency (SEPA) was not ordered to withhold information from the Scottish Government and it is absolutely wrong to suggest otherwise.
"Having been told about the situation, SEPA themselves chose not to inform ministers based on their expert view that the local community and environment is not at risk.
"As we have consistently made clear, the announcement was about the decision to re-fuel HMS Vanguard, not the issue at Dounreay; where regulators judged the reactor continues to operate safely."
Labour's shadow defence secretary Vernon Coaker and shadow Scottish secretary Margaret Curran have called for a parliamentary inquiry into the handling of the incident and the delay in making it public.
In a joint letter to James Arbuthnot MP, chair of the Defence Select Committee, they said: "We believe there must be public confidence in the Government to be open and transparent about these issues. This confidence has been damaged by the two-year delay in informing the public.
"There are still many unanswered questions. That is why we are requesting that the Defence Select Committee undertakes an inquiry into the incident at Dounreay.
"We believe such an inquiry would not only shed light on what happened following the incident at Dounreay, but would also help to restore public confidence and trust."
Responding to the First Minister's letter to the Prime Minister, an MoD source said: "Alex Salmond is playing politics with this, scaremongering and making mischief about something that Sepa themselves agreed wasn't a safety risk. The contained radiation levels are way under permitted limits and negligible by civil nuclear comparisons."