A campaign by Ukip to stop a comedy tour called 'Stop Ukip' has backfired massively.
After supporters of the right-wing group rallied against musical comedians Jonny & the Baptists' new satirical show, the group today proudly announced additional dates to their tour schedule following an outpouring of support from the industry and general public, alongside soaring ticket sales across the country.
But contrary to the intentions of Ukip supporters, news of their campaign against the comedy show quickly saw thousands taking to Twitter to express support for the group – including fellow comedians Marcus Brigstocke, Dara O'Briain and Robin Ince as well as local councillors, MEP Catherine Bearder and members of the public.
In just three days, Jonny & the Baptists' official 'UKIP' comedy music video achieved over 10,000 additional YouTube views
Today, the comedians said "the only victory to be claimed is for fans of the Streisand Effect, once again showing that an attempt to censor something only ends up publicising it more.
"Every ticket sold on this tour goes directly to paying our rent and keeping us off the streets - so if anyone else wants to start a campaign against us, our landlord would be very grateful."
The Stop Ukip Comedy Tour was inundated with complaints from party supporters targeting venues after Ukip's deputy leader Paul Nuttal condemned the pair for their "distasteful satire", calling on the Arts Council to investigate funding given to theatres hosting the act.
"Everyone is entitled to their own opinion and Ukip is very much the party of free speech but I think it is wrong that taxpayers money is being used to back this production."
The Ukip MEP for the North West Of England complained on the party website that: "This blatantly party political rubbish is being staged to coincide with the run-up to the Euro elections in May and I am appalled that one of the venues in the much lauded Royal Exchange Theatre in Manchester. I would have hoped they had higher standards than giving this show house room.
The Royal Exchange Theatre, Manchester, said it had complaints from "loyal customers" who'd never visited, while abuse of the band has been posted on the theatre's website: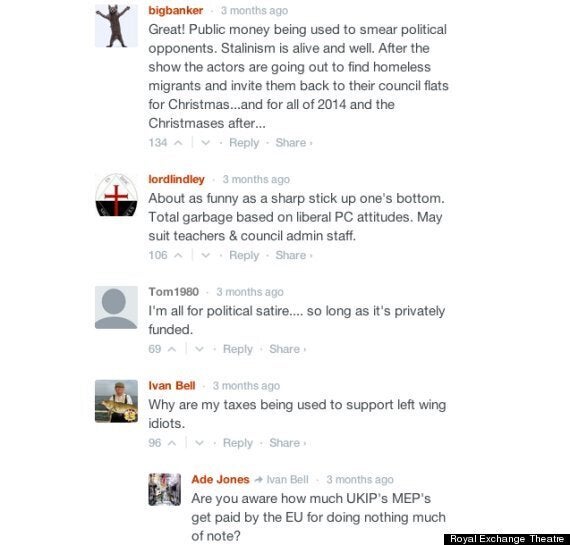 Ukip's campaign came despite Nigel Farage insisting politicians should "let people tell their jokes."
Rather ironically, party leader Farage defended a stand-up comic who told a string of jokes targeting foreigners at the Ukip spring conference.
Related