A pair of conjoined twins with two heads and a shared lower body have been born in India.
The baby girls were born unexpectedly to a 26-year-old woman, who according to reports told medics she had been unable to afford ultrasounds throughout her pregnancy.
The babies were delivered at Cygnus JK Hindu Hospital in Sonipat, Haryana, northern India on Wednesday, weighing 7lbs 7oz.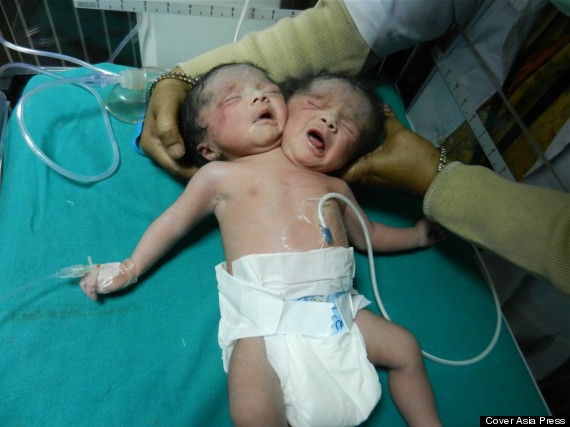 The babies were born by caesarean section at Cygnus JK Hindu Hospital in Sonipat, Haryana
Dr Shikha Malik, a gynaecologist told the Hindustan Times the babies are "a very, very rare" case and it is feared their chances of survival are slim.
SEE ALSO:
The newspaper adds the medical term for their condition is "thoracophagus", where two bodies are fused from the upper thorax to lower belly.
Dr Malik added: "The parents are very distressed and we are helping the family the best we can.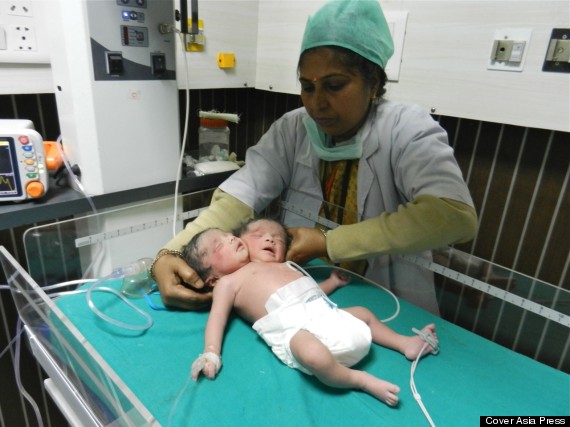 The twins's condition is known as thoracophagus
"Now the baby is born we will do our best to save her and we hope to operate once her condition is more stable."
"We only came to know she was carrying conjoined twins after an ultrasound two weeks ago but it was too late to do anything by then."