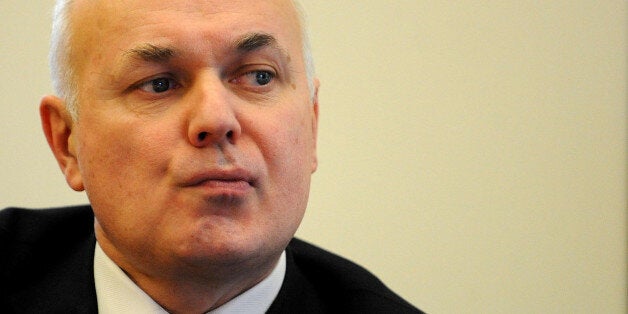 Iain Duncan Smith's Department for Work and Pensions is on the verge of a "meltdown" over its three major benefits programmes, warned Margaret Hodge, chair of Parliament's spending watchdog.
The public accounts committee chairwoman singled out the DWP as a department struggling to deliver its major benefits programs like Universal Credit, the Work Programme and the personal independence payment (PIP), a replacement for the disability living allowance.
"All their programmes are on the verge of meltdown," Hodge warned, at a briefing to launch a damning report on government contracts with private providers.
She went on: "Time and again when we see failures ... it's a failure of government to manage contracts", adding that departments "simply have to up their game and get a grip".
The Public Accounts Committee said there was "significant scope for improvement" and a need for a more professional approach to managing contracts.
The government spends £187 billion on goods and services with third parties every year, with half of it contracted out.
Hodge said: "Private provision of public services has become big business, with half of all public spending on goods and services going to private providers of contracted-out services.
"We believe Government needs to urgently get its house in order so that this expenditure is properly open to public scrutiny, and that measures are put in place which will improve services and secure a better deal for the taxpayer.
"Recent scandals illustrate the failure of some contractors to live up to expected standards. These include the astonishing news that G4S and Serco had been overcharging the Ministry of Justice on their electronic tagging contracts for eight years, including claiming for ex-offenders who had actually died, and the complete hash that G4S made of supplying security guards for the Olympics.
"These failures have also exposed serious weaknesses in the Government's ability to negotiate and manage contracts with private companies on our behalf.
"We looked at Serco's misreporting of the performance of its out-of-hours GP services in Cornwall, where the contract was so poorly written that not only did Serco not lose the contract, but they continued to receive bonus payments. When Capita failed to fulfil its contract to provide court translation services it was fined a mere £2,200, despite the substantial extra costs to the criminal justice system of delayed trials.
"There is a lack of transparency and openness around Government's contracts with private providers, with 'commercial confidentiality' frequently invoked as an excuse to withhold information."
A DWP spokesperson said: "This department has a track record of delivery. We've already successfully launched the Benefit Cap, Universal Credit and the new Personal Independence Payment. The industry tells us that the Work Programme has got almost 500,000 of the hardest to help into jobs. We are bringing in our reforms safely and responsibly."
Popular in the Community