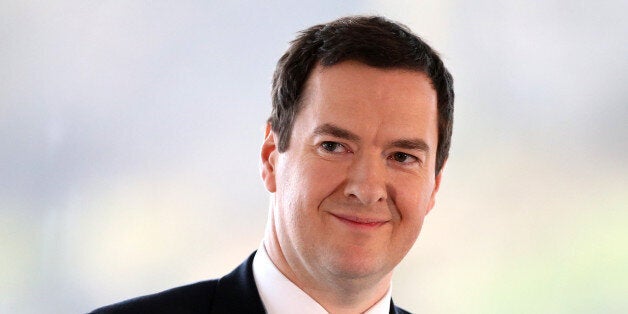 Here are the five things you need to know on Sunday 16 March 2014...
1) OSBORNE'S 'MARIE ANTOINETTE' MOMENT
The chancellor of the exchequer has upset some of his backbenchers, with just days to go till the Budget. From the Mail on Sunday front page:
"George Osborne was accused of 'insulting' middle-class voters last night after claiming that making them pay higher tax rates is 'good for them' because it makes them feel successful – and more likely to back the Tories. Conservative MPs were stunned when the Chancellor made the explosive remark at a secret meeting at his Downing Street office, the contents of which have been leaked to The Mail on Sunday. The disclosure came as Mr Osborne is poised to announce a Budget boost for the low-paid by raising the threshold for income tax to £10,500, while rejecting pleas to stop more middle earners being dragged into the 40p tax band. MPs at the meeting reacted with horror when he told them: 'Let's not forget there are advantages in more people paying tax at 40p. It means they feel they are a success and joining the aspirational classes. That means they are more likely to think like Conservatives and vote Conservative. If they are paying 40p tax they have a greater interest in cutting Government spending because they are paying for it. All the polling evidence suggests I am right.' One MP who was present said: 'There was a stunned silence. I never thought I'd hear a Tory Chancellor say paying more tax is good for the middle classes. It was a Marie Antoinette moment.'"
"The Help to Buy scheme, designed to help people get on to the housing ladder, is likely to be extended in this week's budget... The chancellor is tipped to increase the personal tax allowance to £10,500 and also to extend the Help To Buy scheme beyond 2016. Under this equity-loan programme, the government offers buyers of newly built homes that are worth up to £600,000 a loan of up to 20% of the value of the property. The loan is interest free for five years."
What better way to guarantee an economic 'recovery' than stoke a housing boom based on debt, eh?
2) CAMERON: MY SEVEN TARGETS FOR EU REFORM
"David Cameron today sets out the seven major changes he wants to make to the European Union to stop Britain being 'sucked into a United States of Europe'. In an article for The Sunday Telegraph, the Prime Minister declares that he will campaign for Britain to stay in the EU in a referendum planned for 2017, if Brussels agrees to his terms... and urges Eurosceptics not to engage in 'shouting from the sidelines'... In his article, Mr Cameron warns that public support for the EU is now 'wafer-thin' and for the first time sets out his seven 'specific changes' that he wants to secure. These are:
* New controls to stop "vast migrations" across the continent when new countries join the EU;
* Tighter immigration rules to ensure that migrants come to Britain to work, not as tourists planning to cash in on "free benefits";
* A new power for groups of national parliaments to work together to block unwanted European legislation;
* Businesses to be freed from red tape and "excessive interference" from Brussels, and given access to new markets through "turbocharging" free trade deals with America and Asia;
* British police and courts liberated from "unnecessary interference" from the European Court of Human Rights;
*More power "flowing away" from Brussels to Britain and other member states, rather than increasingly centralising laws in the EU;
* Abolishing the principle of "ever closer union" among EU member states, which Mr Cameron says is 'not right for Britain'."
Will the Telegraph piece, and this laundry list of "specific changes", be enough to appease the Tory leader's recalcitrant Europhobic backbenchers? I doubt it.
Meanwhile, the Independent on Sunday reveals that "the UK Independence Party is on course to win the largest share of the vote in elections for the European Parliament in May, according to a ComRes opinion poll for The Independent on Sunday. Nigel Farage's Ukip is in the lead on 30 per cent, two points ahead of Labour, on 28 per cent, with the Conservatives in third place on 21 per cent and the Liberal Democrats on only 8 per cent. Such a result would be a remarkable victory for a party with no MPs, and would probably double Ukip's 13 seats in the Brussels parliament that it won four years ago."
3) PUTIN PREPARES FOR WAR?
"Ukraine has warned that Russia could be planning a full-scale invasion of its country after a referendum today is expected to pave the way for the Kremlin to annex the Crimean peninsula. About 120 Russian paratroops were dropped by helicopter on a long strip of land that runs parallel to Crimea's eastern coast and seized a gas plant supplying the peninsula. It was the first incursion by the Kremlin's forces into the Ukrainian mainland since the Russian military took control of the peninsula more than a fortnight ago. Ukraine scrambled aircraft and paratroops but there were no initial reports of fighting... The people of Crimea are expected to vote overwhelmingly for the peninsula to rejoin Russia. It was a part of Russia until 1954, when it was transferred to Ukraine by Nikita Khrushchev, the Soviet leader. Today's referendum, held under Russian military occupation, has been declared illegal by the government in Kiev as well as by Britain and other western nations. Russia yesterday vetoed a UN security council resolution declaring the vote invalid. China, its close ally, abstained."
BECAUSE YOU'VE READ THIS FAR...
"The business secretary, Vince Cable, has intervened in the debate over the controversial HS2 high-speed rail line by saying there is now a 'compelling case' to speed up links to northern cities to help rebalance the British economy. Ahead of the release of a landmark report on the £50bn project by its new chairman, Sir David Higgins, who delivered the 2012 London Olympics on time and on budget, Cable says the focus should be on creating jobs and prosperity outside the capital, and closing the north-south divide. His remarks to the Observer reflect a growing awareness in government, and among project leaders that HS2 will happen only if it gains political and public support up and down the country and is not viewed primarily as a way of speeding up journeys in and out of London."
Ed Balls, speaking on the Andrew Marr show, reiterated his HS2 scepticism, saying there would be no "blank cheque" for the project under a future Labour government and that "the costs have got to come down". According to a new Opinium poll for the Observer, just over a third of people (36%) back HS2, while just under a third (30%) oppose it.
5) STEPHEN INHERITS TONY'S TITLE
An interesting Benn-related story in the Observer:
"Tony Benn's eldest son, Stephen, has inherited the title that his father renounced in 1963 and become the 3rd Viscount Stansgate. The new peer will not be eligible to sit in the Lords because of reforms made by the Labour government in 1999. The succession brings the story of the peerage almost full circle. Benn's father, a Labour minister, was created Viscount Stansgate of Stansgate in the County of Essex in 1942 and sat in the Lords as an hereditary peer. On his father's death, Anthony Wedgwood Benn, later known as Tony Benn, became the second Viscount Stansgate, disqualifying him from staying in the Commons. He was still eligible to stand in the resulting Bristol South East byelection, which he won, but insisted on his right to abandon the peerage and kept his Commons seat in a byelection on 4 May 1961 prompted by his succession. However, an election court gave the seat to the Tory runner-up, Malcolm St Clair. But eventually the Conservative government accepted the need for a change in the law. The Peerage Act 1963, allowing renunciation of peerages, became law on 31 July 1963 and just 22 minutes later he became the first peer to renounce his title. However, under the law the title continues to pass through the generations."
From the Sunday Times/YouGov poll:
That would give Labour a majority of 86.
From the Independent on Sunday/Sunday Mirror/ComRes poll:
That would give Labour a majority of 28.
From the Observer/Opinium poll:
That would give Labour a majority of 52.
@RogerHelmerMEP Cameron's EU shopping list doesn't address fisheries, green nonsense & energy prices, employment rules. Totally inadequate.
@LucyMPowell Not a political point, but how long is Osborne's tie?? #marrshow
@faisalislam Salmond must be high fiving most of Aberdeen at sight of "ed and george" talking about indyref together from same Marr sofa
Andrew Rawnsley, writing in the Observer, says: "Tony Benn: charismatic leader of the left damned by warm Tory praises."
Matthew D'Ancona, writing in the Sunday Telegraph, says: "Tony Benn's battles still rage across British politics."
Boris Johnson, writing in the Mail on Sunday, says: "Why I will lead the Tory fight against Vince Cable's mansion tax."
Got something you want to share? Please send any stories/tips/quotes/pix/plugs/gossip to Mehdi Hasan (mehdi.hasan@huffingtonpost.com) or Ned Simons (ned.simons@huffingtonpost.com). You can also follow us on Twitter: @mehdirhasan, @nedsimons and @huffpostukpol
Popular in the Community