UPDATE 16/03 15:28: Red Bull's Daniel Ricciardo has been disqualified for breaching fuel consumption rules. His team say they will appeal.
Nico Rosberg dominated the Australian Grand Prix to claim the fourth Formula 1 victory of his career and the first in the new turbo-powered era.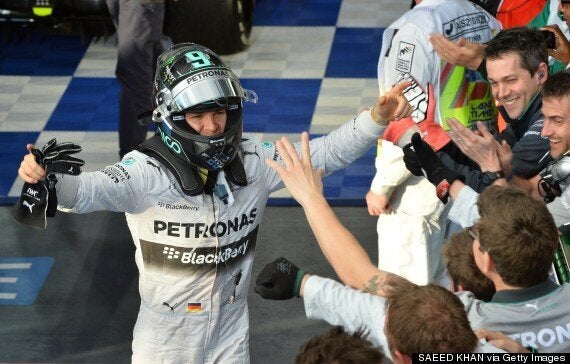 Nico Rosberg celebrates with his team after winning in Australia
Rosberg was never in trouble after passing the leaders even when the safety car came out after Valterri Bottas had touched a wall, losing the right-rear tyre from his Williams FW36.
As had been expected, reliability would play a part in the season opener and 2013 champion Sebastian Vettel also suffered an early end to his race when the lack of power he complained about in qualifying returned and he was forced to park his RB10 after just five laps.
"At the start of the race we had no power, cars kept on passing me, and although I was down we tried to recover," said Vettel, who had been even been overtaken by Marussia's Max Chilton before quitting.
"At some stage I thought there was an improvement, but then we realised we had lost power from the engine."
However, it was a superb debut for his Red Bull team-mate Ricciardo who finished 23 seconds behind Rosberg for second to huge acclaim from his fellow Australians in the Albert Park crowd while another debutant, Kevin Magnussen, stole the show with third place for McLaren.
On his F1 debut, the 21-year-old Dane gave the British team an incredible result after a miserable 2013 season when they failed to claim a podium finish for the first time in 33 years. His team-mate Jenson Button came home fourth, a result that puts McLaren at the top of the constructors' standings, albeit at a very early stage.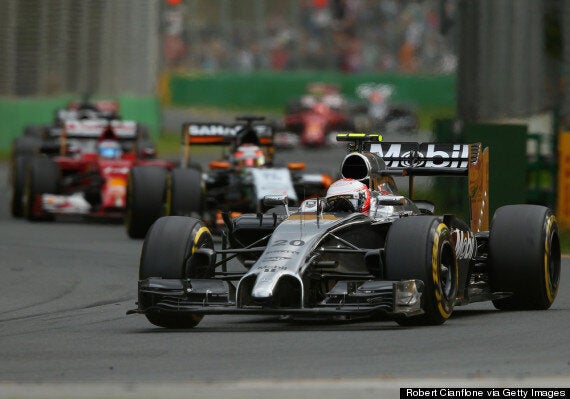 Kevin Magnussen enjoyed a great start to his F1 career
Magnussen had cruised past Hamilton in the early stages as the 208 champion's race ground to a halt. Clearly disappointed, he put on a brave pace and looked forward to the rest of the season, saying: "We've got pace and we will recover from this. It's only a hiccup and there's a long way to go. At the moment I'm not concerned about anything."
By the first turn the field was down from 22 to 20 due to Caterham's Kamui Kobayashi braking too deeply, colliding with Williams' Felipe Massa and sending both into the gravel. Only 14 starters made it to the chequered flag, Max Chilton the last of those home, continuing his impressive record of so far completing every one of his F1 races.