Clarissa Dickson Wright has died aged 66, it was announced on Monday.
Dickson Wright passed away on Saturday at Edinburgh's Royal Infirmary, the Scotsman reports.
A statement from her agency said: "Loved dearly by her friends and many fans all over the world, Clarissa was utterly non-PC and fought for what she believed in, always, with no thought to her own personal cost. Clarissa Dickson Wright passed away on Saturday
"Her fun and laughter, extraordinary learning and intelligence, will be missed always, by so many of us."
The former TV chef starred alongside Jennifer Paterson in the BBC 2 cooking show Two Fat Ladies from 1996 to 1999.
Paterson died of cancer in August 1999, just one month after diagnosis. The show attracted more than 70million viewers worldwide.
Dickson Wright spoke openly about her alcoholism and confessed to spending a £2.8million inheritance from her father, a surgeon to the Royal Family, in 12 years of heavy drinking.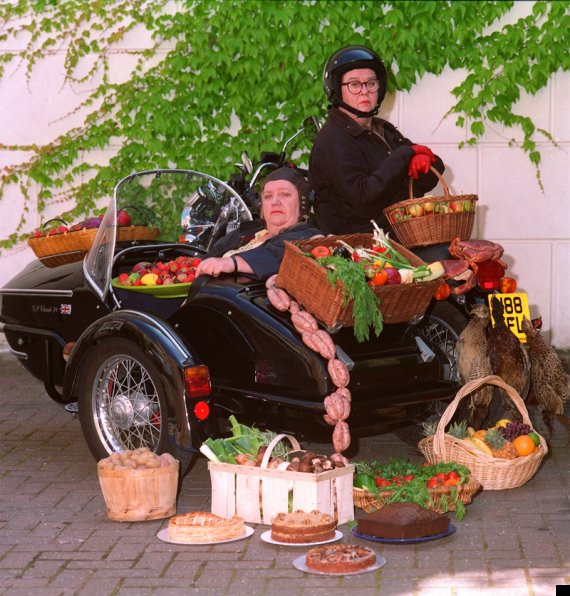 Dickson Wright starred with Jennifer Paterson in Two Fat Ladies from 1996 to 1999
She told the Telegraph in 2012: "My own stupid fault. I've always been bad with finance. It's from not having to worry about it. If you grow up with money, you never really learn that it doesn't grow on trees."
Her forthcoming birthday in June would have marked her 27th year "on the wagon", an event said to have "meant much more to her than another year on the clock."
In 2012 she raised the ire of Queen star Brian May by suggesting Britons should eat badgers. Confessing she "enjoyed" eating the creatures, she said she believed people should consume the bodies of animals killed as a result of culling.
She event went as far as to suggest cooking methods for the animals. "Either make a ham or treat it like pork - very lean pork because it's got no fat on it. Baste it properly and marinade it properly and cook it in a casserole or whatever."
May, who spent months protesting against the culls was unimpressed by her "senseless" views and ruminated on "if she would be best boiled or braised."