A man has been fined after attacking a cardboard policeman.
The bizarre assault happened in a Tesco petrol station forecourt in Basildon, Essex, earlier this month.
The cardboard cop was dragged out onto the forecourt in broad daylight and kicked to pieces in full view of CCTV.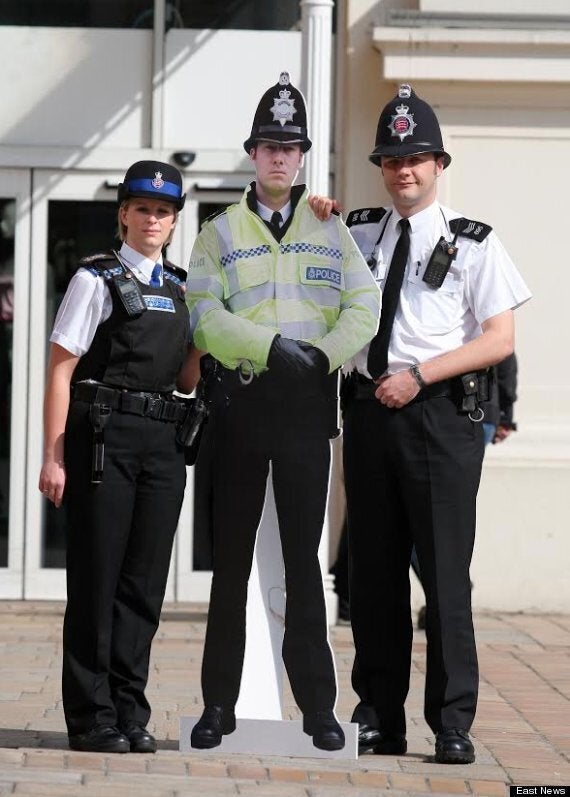 Police reviewed the CCTV footage from the March 1 attack and were able to trace the man's getaway vehicle to a nearby home.
Ten days later an officer attended the address in Basildon, Essex.
As a result, a 23-year-old man was handed a £90 fixed penalty notice after admitting criminal damage.
Sgt Simon Gray, from the Basildon Retail Crime Unit, said: "This man obviously thought it would be funny to take this cut out to the forecourt and kick it to pieces.
"Whatever he may have thought, this cut out was there for a reason.
"We did manage to track down this man using CCTV and he was dealt with by way of a £90 fine."
A van driver who was filling up at the petrol station today
"I'm not their biggest fan but I wouldn't rip one to shreds on camera.
"But, to be fair, I don't really see the point of these cardboard cops.
"Who's going to believe there's policeman out there with a 1cm thick waist?
"People just end up nicking them for a prank anyway."
Cardboard cops – costing around £100 each – were introduced on a trial basis across Essex back in 2009.
Essex Police spent £760 on eight cut-outs to use at petrol stations in a bid to deter crooks across the county.
But the trial was abandoned a year later after cheeky crooks began stealing them.
The two-dimensional crime fighters have recently been reintroduced at supermarkets and petrol stations in the Basildon area thanks to joint funding from Basildon Council and Essex Police.
Sgt Gray added: "These cardboard cut-outs have received some bad press in the past.
"We do not use them to replace officers, instead they are a tool that we use to deter shoplifters.
"We have seen a reduction in shoplifting offences at the stores where these cut outs are located."
The destroyed cardboard cop has not yet been replaced at the Tesco petrol station, which is situated just off the busy A13 connecting London and Southend.
Tesco Extra staff who witnessed the bizarre attack are no strangers to dealing with odd criminal behaviour.
Last August, a brazen thief stole a Thomas the Tank Engine children's ride from outside the store in broad daylight.
Related