Vladimir Putin has launched a blistering offensive on the West's "baffling, primitive, and blatant" posturing over Crimea, quipping that it is "better late than never" for the West to take the lead on observing international law.
In an historic speech to the Duma, to thundering applause and a standing ovation, Putin accused the West of fermenting a "precedent with their own hands." Russian and Crimean leaders have now signed a treaty to make the territory part of Russia.
His words were trenchant. "In a situation absolutely the same as the one in Crimea they recognised Kosovo's secession from Serbia as legitimate, while arguing that no permission from a country's central authority for a unilateral declaration of independence is necessary," Putin said.
"That's what they wrote, that what they trumpeted all over the world, coerced everyone into it – and now they are complaining. Why is that?"
"It's beyond double standards. It's a kind of baffling, primitive and blatant cynicism. One can't just twist things to fit his interests, to call something white on one day and black on the next one."
He added: "At least, it's good that they recalled that there is international law. Thank you very much. Better late than never."
Putin said the referendum, where 97% of Crimeans voted to become part of Russia, was conducted responsibly and was legitimate.
"The people of Crimea clearly and convincingly expressed their will - they want to be with Russia," he said.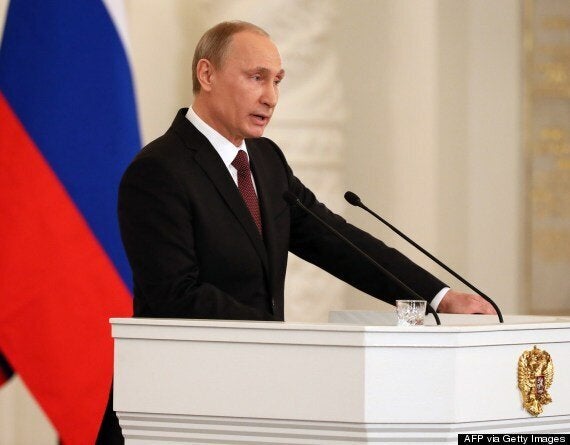 Vladimir Putin addresses a joint session of Russian parliament on Crimea in the Kremlin
No other world power has recognised the result of the hastily convened referendum on Sunday, which was boycotted by Ukrainian and Tatar groups who opposed joining Russia.
China, however, has blocked a UN resolution condemning Russia, with Putin thanking Beijing in his speech for its support.
To applause from both Houses, Putin said: "We have to stop this Cold War rhetoric and realise that Russia is an independent nation.
"We must stop the hysteria - you have to respect those interests of Russia."
The West, said Putin, "knew perfectly well that there are millions of Russians living in Ukraine". And he added ominously, the West also knows that the Ukrainian capital Kiev, is "the mother of all Russian cities."
As well as referencing Kosovo, Putin compared the annexation of Crimea with the unification of Germany, post Cold-War in 1990, which he said was backed by Russia. "I am sure that Europeans and Germans will understand. Russia has a desire to unify the Russian people."
Responding to opposition to Russian rule from Crimean Tatars, who were persecuted under Stalinism, Putin conceded the Sunni Muslim minority had been wronged.
"True, there was a time when Crimean Tatars were treated unfairly, just as a number of other peoples in the USSR," the president continued.
"I believe we should make all the necessary political and legislative decisions to finalise the rehabilitation of Crimean Tatars, restore them in their rights and clear their good name."
On Monday, the US and EU imposed asset freezes and travel bans on a number of Russian and Ukrainian officials. It barely merited a mention in Putin's speech.
"We have to decide for ourselves, are we to protect our national interest or just carry on giving them away forever?" the president said.
"It's a big honour for me," he said. "I don't have accounts abroad. The only things that interest me in the US are Tupac Shakur, Allen Ginsberg, and Jackson Pollock. I don't need a visa to access their work. I lose nothing."
Popular in the Community