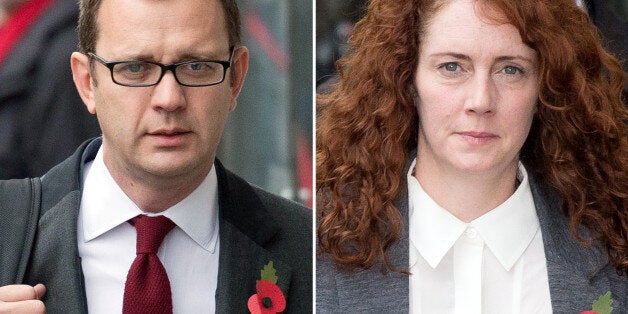 Phone hacking was going on at the now defunct News of the World "on a pretty industrial scale," the paper's ex-royal editor has told court, saying even Andy Coulson and Rebekah Brooks were victims.
Clive Goodman said a senior journalist at the NotW was "hacking the editor Andy Coulson's phone".
Asked for what purpose, he said it was to find out what other stories were in the pipeline in the competitive newsroom.
He was also hacking Rebekah Brooks' phone while she was editor on the Sun "for the same reason - to find out what the Sun was up to", Goodman said.
Goodman gave some examples of stories he got - one about Prince William getting drunk at his brother's passing out parade, and another about Prince Harry asking his private secretary for help with his homework at Sandhurst.
Harry's phone was also hacked to listen to a jokey message from his brother putting on a woman's voice, the court heard.
Pretending to be his then girlfriend Chelsy Davy, William calls him "you big hairy fat ginger".
Mr Spens asked: "Hacking or not?" Goodman replied: "Yes, hacking."
Asked if he ever told the senior journalist where he got hacking stories from, he said: "He may well have suspected but we never had a conversation like that.
He said the senior journalist at the NotW believed he had an "exclusive" deal with private investigator Glenn Mulcaire.
Goodman told the court he kept his own arrangement secret from his colleague, who cannot be named for legal reasons.
An email from Goodman to Coulson in February 2006 was read to the court outlining how cost effective the deal was proving to be.
In it, Goodman told Coulson: "A few weeks ago you asked me to find new ways of getting into the family, especially William and Harry, and I came up with this safe, productive and cost effective way.
"I'm confident it will become a big story gold mine for us if you just let it run just a little longer."
The former royal editor told the court that he made a personal deal with Mulcaire to pay him £500 a week to get information for hacking the phones of people close to princes William and Harry, separate from the newspaper's contract.
His own project with Mulcaire was only due to last a couple of months from October 2005 but went on ad hoc until the time of their arrests in August 2006, he said.
"The problem was Glenn Mulcaire was supposed to be working exclusively for (senior journalist). It would have caused conflict."
He also denied telling co-defendant Coulson that he had got a story from hacking.
All the defendants in the case deny the charges against them.
Earlier the court heard a phone message from Prince William to Kate Middleton was intercepted Mulcaire.
The message was of William arranging to leave Sandhurst to meet his then girlfriend, the Old Bailey heard.
It was found on a micro-cassette in former royal editor Clive Goodman's flat.
Goodman, 56, was asked about the recording during his third day in the witness box.
His lawyer, David Spens QC, read out part of a police transcript on the tape dated February 23 2006.
In it, William says: "Hopefully I should be able to leave by seven at the latest."
Later in the message he repeats: "Planning on definitely coming out by sevenish so I will be with you by eight at the latest."
Mr Spens asked Goodman: "How did this voice message from Prince William to Kate Middleton come to be on a micro-cassette?"
Goodman replied: "This was originally recorded by Glenn Mulcaire."
Goodman admitted phone hacking and was sentenced in 2007. He denies conspiring to commit misconduct in a public office.
Related