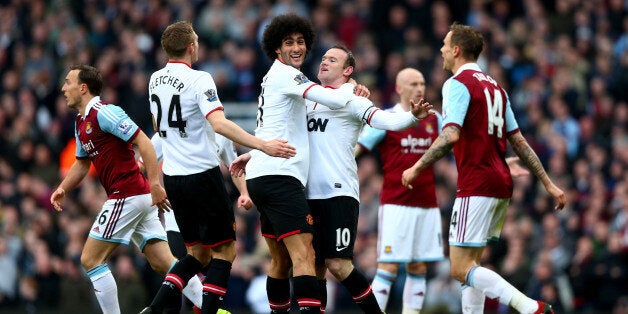 West Ham defender James Tomkins was eased aside on the halfway line and the ball was there to be hit, but what a hit. Without a moment's hesitation, Rooney thumped the ball from 57 yards up and over the aghast Adrián, and watched as the ball took one bounce before it thudded into the roof of the net. On a ground where he produced one of his most dynamic displays three years ago, he continued his love affair with Upton Park.
The cameras caught a glimpse of a beaming and approving David Beckham. Rooney must hope this strike has as similar a sparkling effect on his form as Beckham's strike from the halfway line in 1996 had for his celebrity. So too must the watching England coach Roy Hodgson. Manchester United supporters might have wondered whether their season would feature any more moments of inspiration following their Champions League comeback against Olympiakos. It took Rooney less than eight minutes to provide them with an ingenious image of an at times apocalyptic season.
A discombobulated Adrián had tumbled into the net with the ball. When he looked up at Rooney, still 57 yards away and arms outstretched, he bore the expression of a Bingo worker who had just seen the Tory party's advert. Rooney had reminded the nation that those days when he larruped a 25-yard volley in five seconds after arguing with a referee were not consigned to the history books. His was a goal as audacious as it was awesome.
"Nobody expected Wayne Rooney to do that and when he did it was brilliant," conceded West Ham manager Sam Allardyce, who claimed Tomkins was fouled.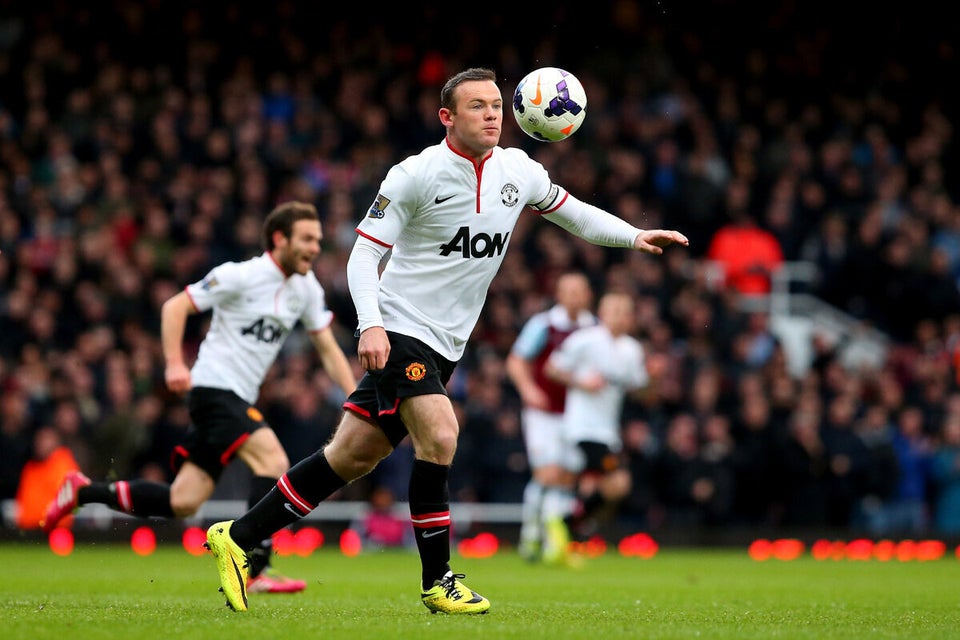 West Ham United v Manchester United
Allardyce boasted about his two wins against United as Bolton manager at the beginning of the century, and Kevin Nolan's winner in September 2002 remains the last time he beat them. His loyal charge's inclusion was not a lucky omen as West Ham suffered a third consecutive defeat since their manager's award-winning February.
It wasn't Shinji Kagawa's selection that prompted gasps around the press room. Michael Carrick, a central midfielder, would start in defence, Alex Büttner was in at left-back, and the ever-unpopular Ashley Young returned. Sir Alex Ferguson often selected sides Houdini wouldn't be able to guess, and David Moyes had lived up to his predecessor in that regard.
Ferguson was one of the few managers capable of deriving quality from mediocrity and unearthing belief in players they never knew they had. However tantalisingly adventurous the triumvirate of Rooney, Mata and Kagawa was, this game was an audition for a number of United players. Kagawa, along with Young, Büttner and perhaps Darren Fletcher, are not assured of a squad berth at Old Trafford next season. Kagawa was bright if profligate, Fletcher commanding and Büttner untroubled. Young played a key role in both of Rooney's goals but infuriated again.
Mata squandered an opportunity to score his first United goal inside five minutes when he shot feebly at Adrián. Andy Carroll had already denied Marouane Fellaini an opener on his own goal line, as United's confidence belied Moyes' curious line-up and the disastrous defeat to Liverpool last week. There were six changes from the Wednesday win against Olympiakos.
A Carroll header was all West Ham could muster in attack and their supporters became easily vexed. "Carroll for England," chirped United's followers when he was named the sponsors' man of the match. West Ham must have sniffed blood when the teams were announced and saw Carroll would compete against Carrick. The Hammers academy graduate had played at centre-back at the Boleyn Ground during a 4-0 win in 2009. A repeat scoreline seemed fiercely fanciful.
Yet United could easily have led by that margin at the interval, let alone full-time. Adrián thwarted efforts from Kagawa and Mata but was powerless to deny Rooney a second. Mark Noble's attempt to clear Young's cross was smacked straight at Rooney, who instinctively diverted the ball into the corner of the net in the 33rd minute.
West Ham had not lost at home in the League since 18 January and only resembled an awkward outfit in the opening stages of the second 45. A set-piece flurry could not unsettle David de Gea, the victim of a flying headbutt from Carroll in this corresponding fixture last year, and the natives became restless at Mohamed Diamé's lethargy.
Kagawa impressed in east London again. Ferguson conceded he erroneously substituted the Japanese during one of his finest United performances in the draw at Upton Park last season, and he was afforded more freedom in a flexible front three that also elicited Mata's classiest outing since he joined in January. His end product in the final third was as dismal as West Ham's, though.
Diamé and Nolan were withdrawn for Matt Jarvis and Carlton Cole in an attempt to enliven the harmless Hammers. "Jarvis, where's your fucking brain?" demanded one supporter shortly after the winger's introduction. Devoid of guile and wit, Allardyce's gameplan was too patent and one-dimensional on a day the natives reserved their applause for their conqueror.
Popular in the Community