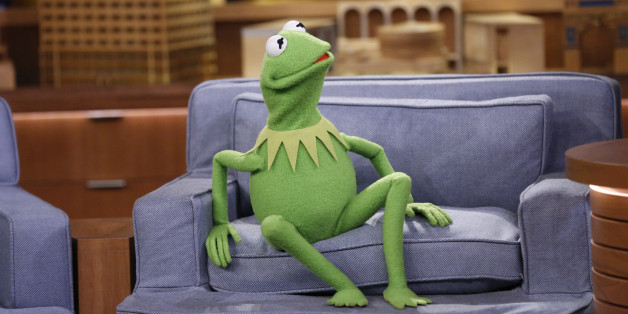 NBC via Getty Images
Kermit the Frog is against Scottish independence. Pro-independence campaigners do not like this.
The Muppet and Sesame Street star's said that the United Kingdom should "absolutely" stay together, in an intervention that has provoked some on Twitter to offer expletive-laden responses.
Kermit may have riled Scottish nationalists by telling the Big Issue that Miss Piggy had her eye on an independent Scotland's throne, saying: "I understand that Miss Piggy is willing to serve as Queen of Scotland if there is a split. So you may want to guard your castles."
Here are five of the most furious reactions on Twitter to show that the frog wading into the Scottish independence debate has not gone down entirely well.
One user wrote about how "desperate" the Better Together campaign was to have Kermit "telling Scots to vote no".
How desperate are @UK_Together that Kermit the Frog is now telling Scots to vote no? Yet more @wee_things ruling the #indyref debate.

— David Cuthbertson (@DavidC_92) March 24, 2014
Meanwhile, another just quipped: "Kermit. Another cold slimy green union supporter."
Kermit. Another cold slimy green union supporter. #indyref

— Phil (@Philgry) March 24, 2014
Others made the predictable "muppet" jokes about the Better Together campaign.
Kermit the Frog has come out in favour of a no vote. Suppose he will feel at home with all the other muppets in Better Together #indyref

— Zed (@Colkitto) March 24, 2014
Another launched into a strongly put rant telling the Muppet star: "Fuck you Kermit". For good measure, he also went on about how there are "no foodbanks" in Scotland.
Winnie the Pooh out in support of #yesScotland , fuck you #kermit Loads of honey in iScotland, no foodbanks YUM!! #IndyReasons #indyref

— Official Rafa Mac (@RafaelMac7) March 24, 2014
Other people seemed brutally disappointed that Kermit had come out against Scottish independence, with one dejected user tweeting: "Fuck's sake Kermit".
Fuck's sake, Kermit. http://t.co/6Lzw37hR1l #IndyRef (Note use of "England" at the end there)

— Mathew Kumar (@mathewkumar) March 24, 2014
The undoubtedly disillusioned user points out that Kermit thanks everyone in "England" for enjoying the Muppets' films rather than the United Kingdom.