The Feodosia base was assaulted by Russian using automatic guns and stun grenades, Ukraine's defence spokesman told AP, adding that helicopters were also used in the attack.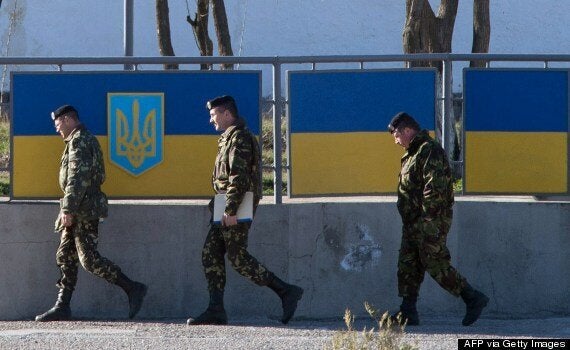 Russian officers walk past the Ukrainian marine battalion headquarters in the Crimean city of Feodosia
Base commander, Colonel Yuliy Mamchu, is currently in the custody of Russian forces at an undisclosed location.
Now, fears are growing of a fresh Russian incursion into Ukraine as world leaders prepare to discuss the crisis at a summit.
With G7 leaders due to meet at the Hague today, Nato's supreme commander in Europe warned that the force on the border was "very, very sizeable and very, very ready".
US General Philip Breedlove raised the prospect that the Kremlim could even seek to take control of a Russian-speaking section of nearby Moldova.
White House deputy national security adviser Tony Blinken echoed the suggestion that Vladimir Putin could be plotting further action.
"It's deeply concerning to see the Russian troop buildup on the border," Blinken told CNN.
"It creates the potential for incidents, for instability.
"It's likely that what they're trying to do is intimidate the Ukrainians... It's possible that they're preparing to move in."
The latest escalation in tensions came on the eve of the gathering at the Hague.
David Cameron and other premiers were originally meant to be attending a Nuclear Security Summit, but Barack Obama has upgraded it to discuss the confrontation with Moscow.
Both the US and EU have ratcheted up sanctions after Russia formally annexed Crimea, and Mr Cameron has suggested that it could be expelled from the G8 bloc of nations.
General Breedlove raised concerns about the position of Transnistria, a restive part of western Moldova where separatists have already demanded to join Russia.
It declared independence in 1990 but has not been recognised by the international community.
Speaking at an event held by German Marshall Fund think-tank, he said the Kremlin might view the region as the "next place where Russian-speaking people may need to be incorporated".
"There is absolutely sufficient force postured on the eastern border of Ukraine to run to (Transnistria) if the decision was made to do that , and that is very worrisome," General Breedlove said.