The world's industrialised nations have turned their back on Russia, following Moscow's annexation of Crimea.
Though the G8 cannot expel its members, countries can refuse a member permission to attend, effectively expelling them.
With jitters in the east of Europe about further Russian incursion, and wariness in China, the state of world diplomacy could look very different by 2015.
The Huffington Post UK has asked military and international relations experts on five scenarios that could occur now Russia looks increasingly isolated, and as the West looks impotent.
BRITISH FORCES IN POLAND AND BALTIC STATES, ON RUSSIA'S DOORSTEP Poland's President Bronislaw Komorowski at the Lask airbase, following his request for more US troops to guarantee its security within Nato
To do that, Nato could decide to send a military signal by reinforcing the borders. "The military force [on the border] at the very least is a tripwire," Clarke said. "It means that if there are any pressure on these borders, Russia will be fighting Nato forces. Nato has a role in that respect."
And that could mean British troops. "We need to be ready to go to our Eastern European partners, particularly Poland or the Baltic States, to show we are committed to the collective defence of Nato... That may turn out to be quite important in the months to come," Clarke said.
RUSSIA ANNEXES PART OF MOLDOVA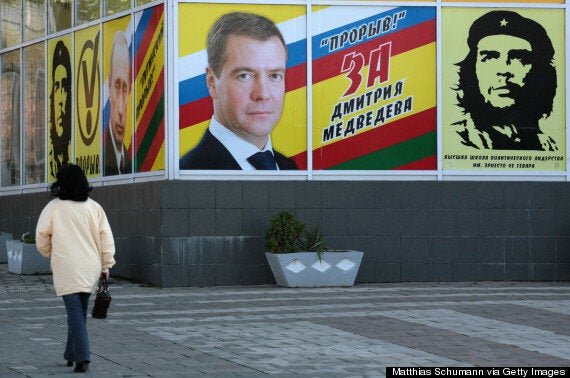 A woman passes the office of a transnistrian youth organisation showing the faces of the former Russian President Vladimir Putin
This could be a matter of weeks rather than months until Russia takes or attempts to take Moldova's Transdniester region, a Russian-speaking enclave that wants independence.
Clarke said he "suspects Russia will" attempt to annexe the region in the coming months. "Then we have another version of Crimea in Moldova, next door to Romania and right on Nato's borders.
"And here, again, we'll have Russia trying to recover the old borders of the old Soviet Union by illegal, or at best, semi-legal means."
RUSSIAN TOURISM IN LONDON NOSEDIVES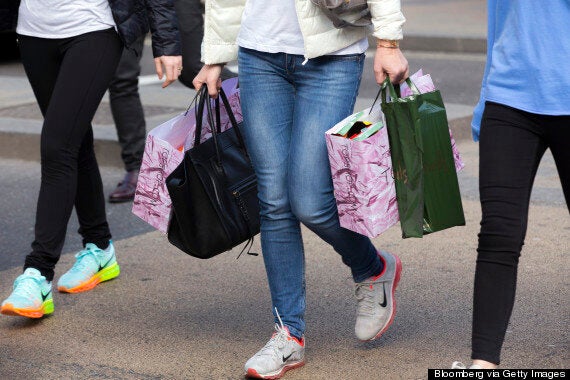 A tourist in London carrying bags from TopShop and Harrods
As Russia's relationship with the West deteriorates, and more oligarchs and politicians added to the list of undesirables, the UK could feel a slowdown in growth from the Russian tourism market.
While there's no reason that Russia's suspension from the G8 should affect your common-or-garden tourist from Moscow or Vladivostok, it's understandable if they feel put off. Plus, Crimea's beaches are lovely for a holiday.
CHINA-RUSSIA RELATIONS COULD DETERIORATE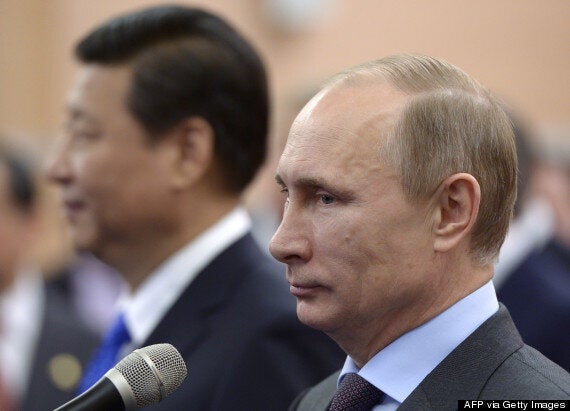 Russia's President Vladimir Putin (R) and his Chinese counterpart Xi Jinping
Russia's actions in Crimea have been awkward for China. China is not too keen on the self-determination rights of citizens to break-away from a host nation. On sites like Weibo, Chinese netizens have codedly wondered what would be the reaction were Tibet or Taiwan were to hold a similar referendum. And crucially, China did not recognise South Ossetia after it declared independence from Georgia in 2008, under Russian influence.
"China's not going to recognise Crimea either," said Dr Natasha Kuhrt, a Russia-China expert at King's College London's Department of War Studies. "Privately, China probably thinks Putin has been foolhardy, and intervention in a region on ethnic grounds is never going to go down well domestically. China has very firm views about separatism and is always consistent, unlike Russia."
So far, China's response has been muted, and it did abstain from a UN resolution to condemn the Crimea referendum, saying it would "only result in confrontation and further complicate the situation."
"Russia thanked China for abstaining, but really, so what? It's no skin off their nose," Kurht said.
Russia is likely to look for a closer union with China as its relations with Europe darken. It remains to be seen if Beijing will respond. "This could put a thorn in the relations," Kurht said. "The actions in Crimea also make Putin seem a little insecure, a riskier partner, and China's priority has always been order and stability."
THE G8 BECOMES THE G7 VS RUSSIA President Barack Obama, center rear, gathered with G7 world leaders
Contrary to popular belief, "No one can suspend Russia, or throw Russia out of a series of informal networks and exchanges," said Dr Andrew Baker, an expert on the governance role of G groups, from Queen's University Belfast.
"Russia has not infringed any formal written rules of memberships. And Russia is currently in the chair, which adds to the general oddness of the situation. So what is effectively happening is that the G7 have effectively withdrawn from Russian preparations and will go off and do their own thing, but this is an entirely arbitrary decision."
Germany, the next chair in 2015, could decided to ban Russia from contributing, and the US could also veto their participation.
The G8 is no longer the "apex policy forum", Baker said. "The G20 does that, and Russia is in the G20. Given the range of states in the G20, it is far harder to exclude Russia. Russia's BRIC counterparts may object for example."
The role of the G7/8 is now "an inner caucus group of like minded liberal democratic advanced capitalist developed states plus Russia," Baker said. "I wonder if that kind of reasoning will mean we see a return to the G7. It would make sense for the G7 in one way. In another way it risks making relations between the G7 and Russia permanently estranged and frosty."