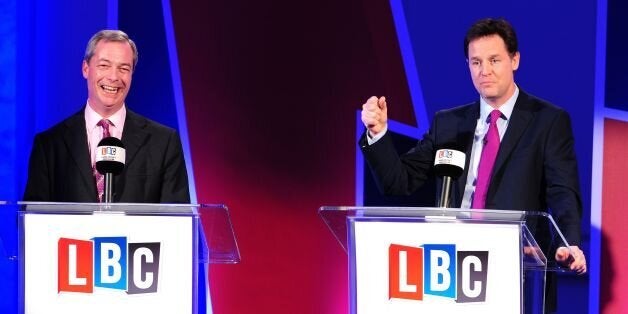 Lib Dem president Tim Farron has urged Nick Clegg to be "bolder" when he comes face-to-face with Nigel Farage in the second European Union debate next week.
A snap YouGov poll of 1,003 voters published moments after the first debate ended on Wednesday evening found that some 57% thought that Farage had performed best compared to 36% who preferred Clegg.
Speaking to a gaggle of reporters in the media spin room before the poll was released, Farron said the lesson to be drawn from the debate was to "be even bolder" in attacking Farage "because the British people are there to be convinced".
Farron pointed out it was only thirty years since Margaret Thatcher had won a landslide victory by attacking the "lunatics" in the Labour Party who wanted Britain to leave the EU.
"We should be a lot bolder about saying this is about Britain's future, about real pragmatics," he said. "This is about what is in Britain's interest. It's all at stake here. May 22 [European elections] is crucial. The trajectory can either to be towards exit or we change our trajectory."
The Lib Dem president made clear he was not "being anyway critical" of Clegg's performance, as it was important not to be "disrespectful" to Farage.
"We should continue to be respectful of Nigel Farage. He's the only other leader in this conversation that has a clear opinion and I respect him for that. We shouldn't be anyway disrespectful to him," he said.
Much of Farage's appeal is based on his carefully sculpted image as an outsider, removed from the Westminster establishment. Clegg attempted to burst that bubble by sneakily pointing out it was Farage, an MEP, who "still remains the euro politician", not he.
Farron added: "Nick might be deputy prime minister but he is a rare voice and challenging the establishment. Nigel Farage will want to paint Nick as being part of it, but Nigel Farage has spent more time being a parliamentarian than Nick Clegg has."
And he said it was the the deputy prime minister who was fighting against the status quo opinion on Europe. "Nick has been the first politician for probably more than a generation to have the courage to say, hang about, there is another side to this story," Farron said.
The next debate will take place on Wednesday April 2 on the BBC and will be hosted by veteran Question Time presenter David Dimbleby.
Popular in the Community