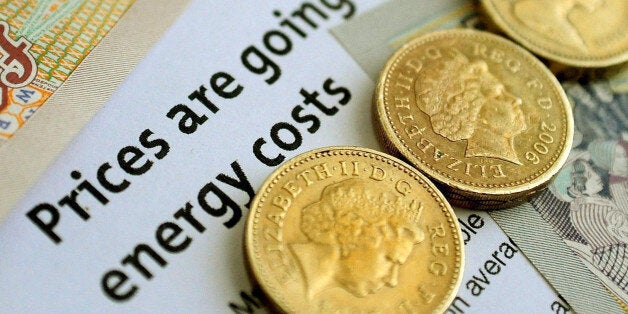 Energy bills are still set for "relentless" price rises despite the regulator stepping in to propose a full-scale probe into how competitive the Big Six energy suppliers are, a union has warned.
The investigation will not report until 2016, with critics warning that any reforms to increase competition would probably not happen until 2017.
Energy market regulator Ofgem said that profits in the sector quadrupled to more than £1 billion in three years and that a probe by the Competition and Markets Authority would "consider once and for all whether there are further barriers to effective competition".
"Profit increases and recent price rises have intensified public distrust of suppliers and highlight the need for a market investigation to clear the air," it said.
Ofgem has launched a consultation on its proposals before it reaches a final decision on referring the sector to the CMA, with the move coming after mounting political pressure over household bills amid a squeeze on wage rises.
Despite Ofgem pushing for an energy market probe, GMB union's Gary Smith warned that it would be "bad for jobs in the UK, bad for investment and it will do nothing for consumers apart from maybe delay the relentless rise in energy bills until after an election".
He added: "This is designed to kick the issue down the road until after the next election.
"The country is in the midst of an energy crisis. Energy bills are going to keep going up. Households will struggle to pay their bills and British industry is losing competitiveness. The market is being propped up by huge subsidies. Electricity wholesale prices across Europe are dropping. Desperately needed investment has been slashed.
"We have energy companies who are losing money. Our energy infrastructure has been fragmented and is dysfunctional, to the point we don't know who owns our electricity cables and gas pipes. The fact electricity distribution companies couldn't get the lights on after flooding in Kent at Christmas proves the point."
Ofgem chief executive Dermot Nolan said: "Ofgem believes a referral offers the opportunity to once and for all clear the air and decide if there are any further barriers which are preventing competition from bearing down as hard as possible on prices.
"The CMA has powers, not available to Ofgem, to address any structural barriers that would undermine competition. Now consumers are protected by our simpler, clearer and fairer reforms, we think a market investigation is in their long-term interests.
"I want to make sure that consumers are put at the heart of this market, so we will continue to take action to help consumers.
"This includes from today putting the industry on notice that any new serious breach of the rules which comes to light will be likely to attract a higher penalty from Ofgem.
"I am determined that energy companies use our reforms to transform their relationship with consumers."
Caroline Flint, shadow energy and climate change secretary, said: "Yesterday's price freeze from SSE showed that a price freeze is possible. Today's confirmation that the energy market is broken shows that it's needed for all customers.
"That's why the next Labour government will freeze gas and electricity prices until 2017 and reform the market to break up the big energy companies and make tariffs simpler and fairer."
Which? executive director Richard Lloyd said: "It is the right decision to refer the energy market to a full-scale investigation and a hugely important step towards restoring trust in an industry that has lost the confidence of its own customers.
"This investigation must work quickly to expose what is really happening in the energy market and confirm where competition is lacking. It is make or break time for the energy suppliers, who should not wait to be forced into action but instead start now to put customers first, keep costs as low as possible and trade transparently.
"Which? will work to ensure the voice of consumers is heard throughout the investigation, and we will continue to argue for radical reforms that ensure the outcome is a market that works competitively for everyone and especially for the millions struggling with spiralling bills."
Lawrence Slade of Energy UK said he did not know if it would lead to households getting lower bills, telling ITV's Daybreak: "The review is welcome and we will work very hard with all the parties involved.
"We know we haven't done enough in the past - we've held our hands up to that - and what we want to is to really start putting the consumer foremost."
Energy secretary Ed Davey said: "This is tough action based on a detailed independent expert assessment of the state of competition in Britain's energy markets - leading to the first ever market reference for the energy markets.
"This is just too important for people to rely on guesses about how to fix the energy markets. If we get it wrong, consumers will pay the price.
"We will give Ofgem and the Competition and Markets Authority whatever support they need to get this done as quickly as possible.
"In the meantime, we'll keep working to help people pay less for the energy they use - continuing to drive the competition that has seen people switching supplier in record numbers, simpler tariffs and bills, getting energy companies to give back direct debit balances, taking £50 off the average bill and making switching faster and easier than it's ever been."
Popular in the Community